Transliteracy
"reading and web 2.0" and "two librarians" and "blog"
A Web 2.0 Class: Students Learn 21st Century Skills, Collaboration, and Digital Citizenship
Christopher Columbus was wrong when he reported to the King and Queen that the world is round. In fact, the world is flat and so are many of our classrooms in this great nation. For years, students learned within the parameters of a building, which then separated them into rooms.
Digital Ethnography » Blog Archive » A Vision of Students Today
Reader (399)
Cohmetrix - Home
Next workshop runs 6 - 31 January 2014 Building and maintaining successful online communities takes time and effort. In this workshop we look at the importance of planning your community, different ways of launching it, and after the first flush of enthusiasm, making sure it remains dynamic and vibrant. Suitable for anyone who wants to run an online community.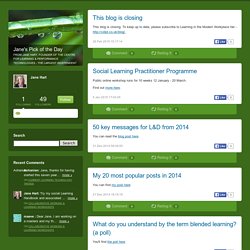 Libraries and Transliteracy
Libraries and Transliteracy