Creativity and Creative Minds
Jessica Hagy - Picture This. Procrastineering - Project blog for Johnny Chung Lee. Educational technology resources. Resources links Resource links at the right provide access to a wealth of materials Jason has created and collected over the years.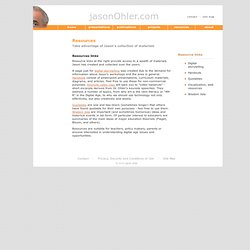 A page just for digital storytelling was created due to the demand for information about Jason's workshops and the area in general. Handouts consist of powerpoint presentations, curriculum materials, diagrams, and articles. Feel free to use these for non-commercial purposes. Keynote video clips will take you to "video handouts" - short excerpts derived from Dr. VCU Brandcenter. Planet SARK. Architecture of Meaning, Consulting the highly sensitive person | Highly Gifted Person | Sensitives.
---