Creativity and Creative Minds
Jessica Hagy - Picture This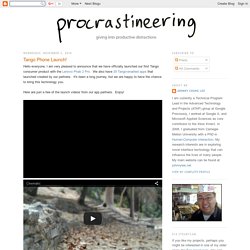 A little less than than a year ago, I transfered to a new group within Motorola called Advanced Technology and Projects (ATAP) which was setup after the Google acquisition of Motorola last year (yes, Google owns Motorola now). The person hired to run this new group is Regina Dugan, who was previously the director of the Defense Advanced Research and Projects Agency (DARPA). This is the same organization that funded projects such as ARPANET, the DARPA Grand Challenge, Mother of All Demos, Big Dog, CALO (which evolved into Apple's Siri), Exoskeletons, and Hypersonic Vehicles that could reach any point on earth in 60 minutes. It's a place with big ideas powered by big science. The philosophy behind Motorola ATAP is to create an organization with the same level of appetite for technology advancement as DARPA, but with a consumer focus.
Procrastineering - Project blog for Johnny Chung Lee
Educational technology resources
Resources links Resource links at the right provide access to a wealth of materials Jason has created and collected over the years. A page just for digital storytelling was created due to the demand for information about Jason's workshops and the area in general. Handouts consist of powerpoint presentations, curriculum materials, diagrams, and articles. Feel free to use these for non-commercial purposes. Keynote video clips will take you to "video handouts" - short excerpts derived from Dr.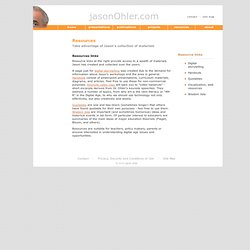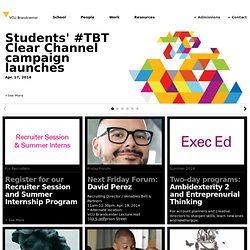 VCU Brandcenter
72andSunny 80amps 360i AT&T Innovation
Planet SARK exists as a practical, transformational resource for those creative, courageous, joyful beings who are responding to the calling of their soul. Throughout the course of my life and career as an international expert in personal well-being and transformation, my name has become synonymous with transformation, healing, movement & FUN. My purpose in life is to be a transformer, an uplifter and a laser beam of love and I've been sharing my art, my words and my spirit for almost 30 years. It's my invitation for you today to explore Planet SARK and discover a place of Dreaming, Daring and Doing, and a succulent home on the internet! As you explore, experience living your extraordinary life fully, deeply, richly, and RIGHT NOW.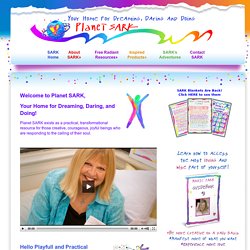 Architecture of Meaning, Consulting the highly sensitive person | Highly Gifted Person | Sensitives
If success and intellectual mastery fail to provide meaning, and you despair of finding authentic engagement in life, our work together enables you to dive below your mental defenses to deep awarenesses and soul level truths. If you: long to feel deep connection to life & work are plagued by dissatisfaction with your achievements find spiritual practices do not ease your emptiness experience self limiting beliefs and behaviors