Shakespeare
MacBeth. The Tempest. Written between 1610 and 1611, The Tempest is William Shakespeare's final play.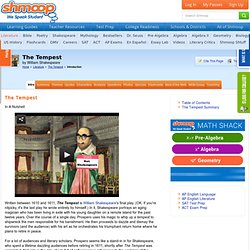 (OK. If you're nitpicky, it's the last play he wrote entirely by himself.) In it, Shakespeare portrays an aging magician who has been living in exile with his young daughter on a remote island for the past twelve years. Magazine | How well did Shakespeare know history? As Shakespeare's history plays are performed in their entirety by the RSC, Shakespeare aficionado Steve Tomkins offers his own assessment of their meaning and significance.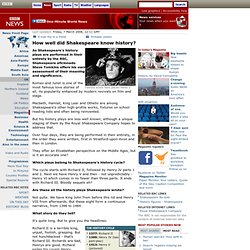 Romeo and Juliet is one of the most famous love stories of all, its popularity enhanced by modern revivals on film and stage. Macbeth, Hamlet, King Lear and Othello are among Shakespeare's other high-profile works, fixtures on school reading lists and often being reinvented. But his history plays are less well known, although a unique staging of them by the Royal Shakespeare Company hopes to address that. Shakespeare Insult Kit. Shakespeare Insult Kit Combine one word from each of the three columns below, prefaced with "Thou":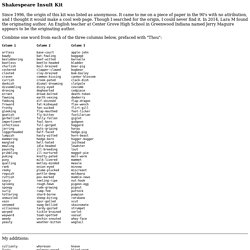 A Midsummer Nights Dream. Girl meets boy.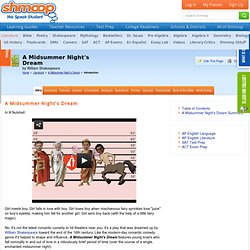 Girl falls in love with boy. Girl loses boy when mischievous fairy sprinkles love "juice" on boy's eyelids, making him fall for another girl. Girl wins boy back (with the help of a little fairy magic). No, it's not the latest romantic comedy to hit theaters near you; it's a play that was dreamed up by William Shakespeare toward the end of the 16th century. Open Source Shakespeare: search Shakespeare's works, read t. Absolute Shakespeare - plays, quotes, summaries, essays... -Folger Shakespeare Library. Shakespeare's plays plus a modern tran.
The Complete Works of William Shakespeare.
---