Performing Arts
Acting. Free music downloads. Movie clips and movie scenes at movieclips.com. LyricsMode.com - Song lyrics archive with more than 650,000 lyri. Grooveshark -- Listen to Free Music Online -- Internet Radio --
Inkpop: The Online Community of Rising Stars in Teen Lit. Theme songs of early UK TV programmes. Adam Adamant • The Addams family • The Adventure Game • Agony • Alias Smith & Jones • All in the Family • Alvin & the Chipmunks • Andy Pandy • The Andy Williams Show • Annie Oakley • Are you being served?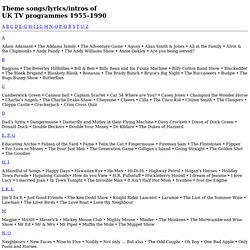 Bagpuss • The Beverley Hillbillies • Bill & Ben • Billy Bean and his Funny Machine • Billy Cotton Band Show • Blackadder • The Black Brigand • Blankety Blank • Bonanza • The Brady Bunch • Bruce's Big Night • The Buccaneers • Budgie • The Bugs Bunny Show • Butterflies Camberwick Green • Cannon ball • Captain Scarlet • Car 54 Where are You? • Casey Jones • Champion the Wonder Horse • Charlie's Angels • The Charlie Drake Show • Cheyenne • Cheers • Cilla • The Cisco Kid • Citizen Smith • The Clangers • Cloppa Castle • Crackerjack • Criss Cross Quiz Dad's Army • Dangermouse • Dastardly and Mutley in their Flying Machine • Davy Crockett • Dixon of Dock Green • Donald Duck • Double Deckers • Double Your Money • Dr Kildare • The Dukes of Hazzard.
Business | How Handel played the markets. A chance discovery in a ledger at the Bank of England suggests the composer Handel may have been a smart financial operator.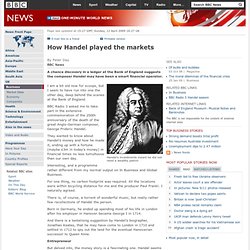 I am a bit old now for scoops, but I seem to have run into one the other day, deep behind the scenes at the Bank of England. BBC Radio 3 asked me to take part in the extensive commemoration of the 250th anniversary of the death of the great Anglo-German composer, George Frideric Handel. They wanted to know about Handel's money and how he made it, ending up with a fortune (maybe £3m in today's money) in financial times no less tumultuous than our own day. Interesting, and a programme rather different from my normal output on In Business and Global Business. Children's Songs and Games. UK television adverts 1955-1985. Models 1: Europe's Leading Model Agency.
---