Other Book Study Guides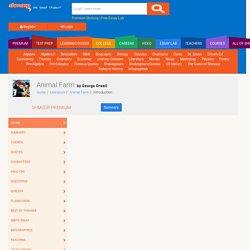 Animal Farm , published in 1945, was the first hit in the famous one-two punch that closed Orwell's career. The second, as you might already know, was 1984 (1949). Orwell's scathing satire of the Russian Revolution, and his dark dystopian vision of a populace under complete surveillance and control, have informed generations of readers of the threat posed by tyrannical governments. Yet there's a catch: the thing about politically timed satires is that it's much easier to accept them after the political moment has passed. Today, Animal Farm is a classic. Yet at the time it was written (1943-44), Orwell could hardly get it published.
Animal Farm
1984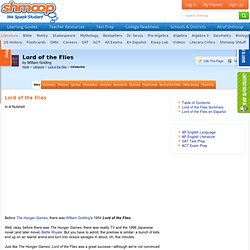 Lord of the Flies
Lord of the Flies was first published in 1954 by William Golding , an English writer. It took awhile to gain wide readership, but by the 1960s it was a big success and Golding was off on his writing career that would include a Nobel Prize for Literature in 1983. According to the prize committee, Golding's novels "illuminate the human condition of the world today." Not bad. This particular novel is about what happens when a bunch of young boys are stranded on an island and left to fend for themselves. Lord of the Flies is an allegory (essentially a story with a moral), about…well, it's about something.
Anne Frank wanted to be a writer. It's both wonderful and tragic that Anne indeed became a well-known writer around the world, but only after her death in a Nazi concentration camp. This diary is the story of Anne's life as a young Jewish girl in hiding from the Nazis.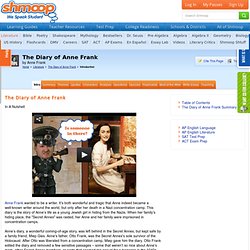 The Diary of Anne Frank
All Quiet on the Western Front