Creation Tools
WordItOut - Generate word clouds (and make custom gifts) PDFescape - Free PDF Editor & Free PDF Form Filler - Your Free Online PDF Reader, Editor, Form Filler, Form Designer, Solution. The Sect of Homokaasu - The Rasterbator. Digital Films Home. Home | Zimmer Twins.
GoAnimate - Make your own cartoons and animations easily. Our tools are free and you don't need to learn Flash. Stupeflix - Video production made easy. Create free online video, photo and music mashups. Tagul - Gorgeous tag clouds. Visual Thinking Evolution. A mind map is a diagram used to represent words, ideas, tasks, or other items linked to and arranged around a central key word or idea.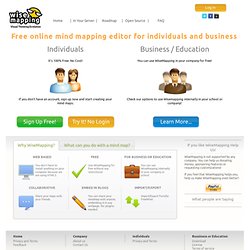 Especially in British English, the terms spidergram and spidergraph are more common,[1] but they can cause confusion with the term spider diagram used in mathematics and logic. Mind maps are used to generate, visualize, structure, and classify ideas, and as an aid to studying and organizing information, solving problems, making decisions, and writing. The elements of a given mind map are arranged intuitively according to the importance of the concepts, and are classified into groupings, branches, or areas, with the goal of representing semantic or other connections between portions of information. Cramberry: Create & study flash cards online. BigHugeLabs: Do fun stuff with your photos.
Photovisi - Collage photo effects. Make Games at PlayCrafter: a Free Online Game Maker. Create Great-Looking Interactive Quizzes (in minutes) - embed in any website / blog! Sign in to Diigo | Diigo. Catch. TOON Books - Easy to Read Comics. Home - Updates. 280 Slides - Create & Share Presentations Online. Collaborative storytelling. Zooburst. Voki Home. BibMe: Fast & Easy Bibliography Maker - MLA, APA, Chicago, T.
Scribus.net | Scribus Open Source Desktop Publishing.
ScrnShots: Share your inspiration. Bubbl.us - free web application for brainstorming online. Stripgenerator v1.0.3. ToonDoo - The Cartoon Strip Creator - Create, Publish, Share, Di. Timeline Creation. Tagxedo - Tag Cloud with Styles. Beautiful Word Clouds. Text-to-Movie. Online Presentation Software | PowerPoint Online | Web Presentat. Your Free Online Video Editor | JayCut.
---