Costa_rica
The cyclone that hit Burma on 3 May caused widespread devastation to the Irrawaddy Delta in the south of the country. Click on the map to find out about some of the worst-hit areas. The following are the most up-to-date statistics provided by the UN's Office for the Coordination of Humanitarian Affairs: Dead: 77,738; Missing: 55,917 Displaced: 150,000 people, in about 120 temporary settlements Affected persons: 2.4 million people, of whom 1.4 million are in severely affected areas requiring priority assistance.
World | Asia-Pacific | Burma cyclone: Mapping the aft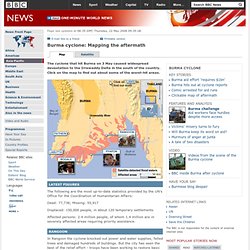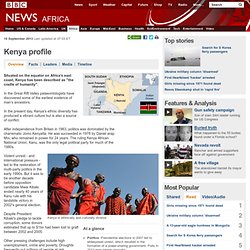 10 September 2013Last updated at 07:03 ET Situated on the equator on Africa's east coast, Kenya has been described as "the cradle of humanity". In the Great Rift Valley palaeontologists have discovered some of the earliest evidence of man's ancestors. In the present day, Kenya's ethnic diversity has produced a vibrant culture but is also a source of conflict. After independence from Britain in 1963, politics was dominated by the charismatic Jomo Kenyatta.
BBC NEWS | World | Africa | Country profiles | Country profile:
Welcome to Pakistan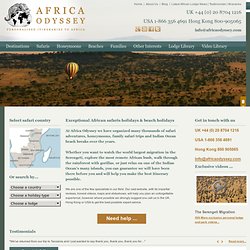 African Safari Club – Kenya Holidays and Nile Cruises
At Africa Odyssey we have organized many thousands of safari adventures, honeymoons, family safari trips and Indian Ocean beach breaks over the years. Whether you want to watch the world largest migration in the Serengeti, explore the most remote African bush, walk through the rainforest with gorillas, or just relax on one of the Indian Ocean's many islands, you can guarantee we will have been there before you and will help you make the best itinerary possible. We are one of the few specialists in our field. Our vast website, with its impartial reviews, honest videos, maps and slideshows, will help you plan an unforgettable experience, however where possible we strongly suggest you call us in the UK, Hong Kong or USA to get the best possible expert advice.
Americas Representative AfricanMecca, Inc 1275 Glenlivet Drive. Suite 100 Allentown, PA 18106 United States of America USA Toll Free: 1-866-KARIBU-1 (527-4281) Outside USA, call: +1 610-253-7021 Fax: +1 (610) 465-8384 Kenya Beach Travel Ltd Old Kilindini Road P.O.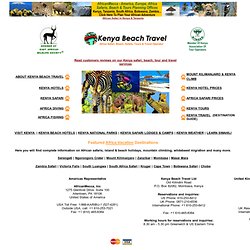 Kenya Safari & Hotels - Africa Vacations, Holidays & Tra
http://www.kenyalogy.com/
Welcome to Magical Kenya: Deutsch | Français | Italiano | 日本人 | русский Advertise on MagicalKenya.com Popular Destinations
| MagicalKenya - The Official Kenya Travel Guide and Travel Info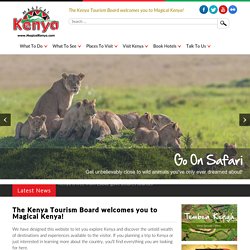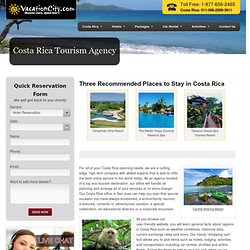 Three Recommended Places to Stay in Costa Rica For all of your Costa Rica planning needs, we are a cutting edge, high tech company with skilled experts that is able to offer the best online service in the world today. As an agency located in a top eco-tourism destination, our office will handle all planning and arrange all of your services at no extra charge! Our Costa Rica office in San Jose can help you plan that special occasion you have always envisioned, a school/family reunion, a leisurely, romantic or adventurous vacation, a special celebration, an educational itinerary or a corporate excursion.
Central America Tourism Operator
Republic of Costa Rica
Costa Rica Guide - Costa Rica
Sheffield Tourist Information and Guide + South Yorkshire, Notts
Pleasure Island Family Theme Park Cleethorpes