IT Review and Test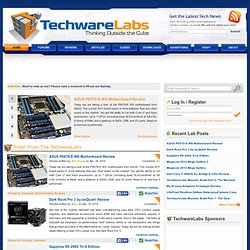 Adding to our CES 2014 coverage, we had the pleasure of seeing TRENDnet's new products announced during CES. Here is a quick breakdown of the new products releasing over the next couple months for TRENDnet. TRENDnet, a best-in-class wired and wireless networking hardware brand, today announces from the 2014 International CES in Las Vegas, Nevada, the extreme performance AC1900 Dual Band Wireless Router, model TEW-818DRU – which offers unmatched performance, powered by a 1 GHz processor, high power radio amplifiers for extended wireless coverage, and Gigabit Wireless AC networking speeds.
TechwareLabs: Thinking Outside the Cube
"FirePower Technology Acquires Power Supply Assets of OCZ Technology Group and PC Power and Cooling CARLSBAD, CA, February 10, 2014 Firepower Technology, Inc., a provider of high-performance power supplies for demanding computing applications, today announced it has acquired the power supply assets of OCZ Technology Group, Inc., including the PC Power and Cooling® product line. Effective immediately, the group will operate as FirePower Technology and will produce and sell the award-winning PC Power and Cooling power supplies including Silencer® MK III as well as the ZX, ZT, ZS, ModXSteam, CoreXStream, Fatal1ty® and StealthXStream brands, all formerly sold by OCZ Technology. This acquisition provides FirePower Technology with a high-quality, well-regarded lineup of power supply products allowing the company to launch with full force into the growing high-end computer gaming and industrial workstation markets.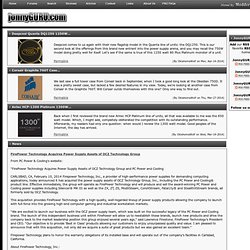 Jonny Guru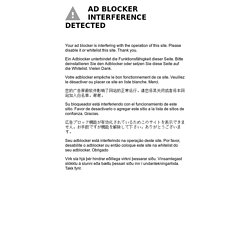 No microtransactions will be featured in Respawn's 'Titanfall' By:Anthony Garreffa | More News:Gaming | Posted: 34 mins ago Respawn Entertainment's upcoming first-person robot shooter, Titanfall, will not feature any form of microtransactions. The developer confirmed the news through Twitter.
Benchmark Reviews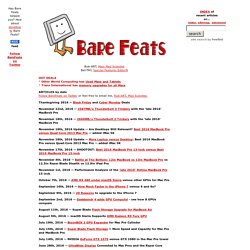 July 26th, 2013 -- Sensu: Old World Art Brush for New World Touch Pads July 25th, 2013 -- Inject New Life in your Old Mac Pro with a Fire Breathing GPU July 12th, 2013 -- Two and Three GPUs rendering Multi-GPU Aware Pro Apps (After Effects, OctaneRender, LuxMark, DaVinci Resolve) -- includes GeForce GTX 770s. June 20th, 2013 -- REAL WORLD SPEED TESTS: 2013 MacBook Air versus 2012 MacBook Air and Retina MacBook Pro - (Handbrake, Photoshop, Aperture, Motion, World of Warcraft, Dirt 2)
Real World Speed Tests for Performance Minded Mac Users
Blemishes are inconsequential, but what's inside? UPDATE: OS X 10.9.2 is out with a fix for the TLS/SSL bug. Apple has plenty of engineers for eye candy and destructive changes to usability. But what about real usability, respect for compatibility and just plain fixing bugs?
Macintosh Performance Guide: Latest News