Marketing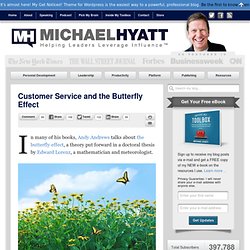 In many of his books, Andy Andrews talks about the butterfly effect, a theory put forward in a doctoral thesis by Edward Lorenz, a mathematician and meteorologist. In short the butterfly effect states that a butterfly can flap its wings on one side of the world and set in motion molecules of air that in turn set in motion other molecules of air and eventually create a hurricane on the other side of the world.
Customer Service and the Butterfly Effect
Google Hotel Finder Goes Mobile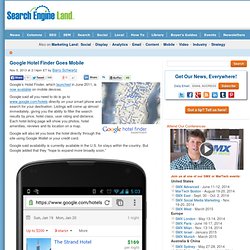 Google's Hotel Finder, which launched in June 2011, is now available on mobile devices. Google said all you need to do is go to www.google.com/hotels directly on your smart phone and search for your destination.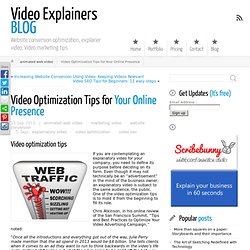 Video optimization tips If you are contemplating an explanatory video for your company, you need to define its purpose before deciding on its form.
Video Optimization Tips for Your Online Presence ← Video Explainers BLOG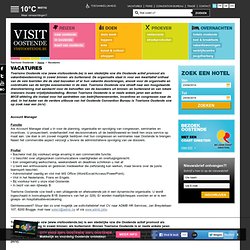 Vacatures
Toerisme Oostende vzw is een stedelijke vzw die actief Oostende promoot als vakantiebestemming in zowel binnen- als buitenland. De organisatie staat in voor een kwalitatief onthaal van de vele toeristen die de stad bezoeken of er hun vakantie doorbrengen, alsook voor de organisatie en coördinatie van de talrijke evenementen in de stad.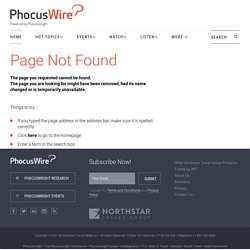 The most popular mobile OTA and metasearch apps so far in 2013
Which travel apps were the most popular in the first half of 2013 for the United States and the United Kingdom?
Following on from Andrew Warren-Payne's post looking at various digital marketing campaigns from McDonald's , I thought it would be interesting to take a similar look at one of the world's biggest sport brands.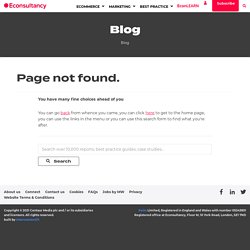 10 awesome digital marketing campaigns from Nike
As part of its promotions for its All-in-1 Travel package Vodafone Netherlands created a social travel agency that provides travelers with destination suggestions based on popular travel-related hashtags. Travelers can log on to #Hashtag Holidays and select their dream holiday based on popular hashtags from major cities in Europe.
Social Travel Agency Recommends Vacations Based On Hashtags [Video]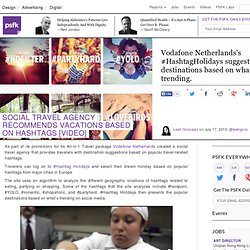 Flight Centre - Home page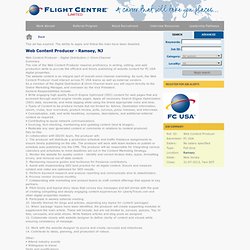 Web Content Producer - Digital Distribution // Omni-Channel Summary The role of the Web Content Producer requires proficiency in writing, editing, and web production skills to provide the efficient and timely publishing of website content for FC USA digital properties.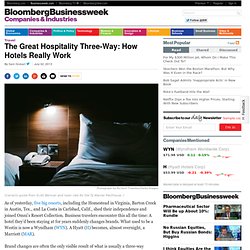 (Corrects quote from Scott Berman and room rate for the Ty Warner Penthouse. )
The Great Hospitality Three-Way: How Hotels Really Work
Video Marketing with a Coupon Mentality: Why This Shouldn't Be the Approach
Swedishness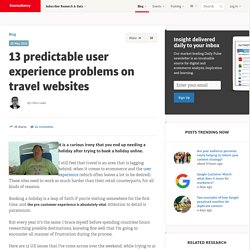 13 predictable user experience problems on travel websites
It is a curious irony that you end up needing a holiday after trying to book a holiday online. I still feel that travel is an area that is lagging behind, when it comes to ecommerce and the user experience (which often leaves a lot to be desired).
You Can Observe a Lot by Watching Movie Trailers
NIXON SURF CHALLENGE 2013 | TEASER on Vimeo
How To Integrate Video Into A Robust Content Marketing Strategy | DZone
Video is powerful because it shows there are people behind your business, which is important for building a strong brand that people can relate to. But how can you integrate it into your content marketing strategy effectively? Know Your Audience
stimorolthy : Santini Icecream |
Santini : I Gelati Più Fini del Mondo
The explosive growth of transactional and online shopper data means consumers are swamped with information.
The dark side of ecommerce
Colorado Turns to Masses For New Tourism Campaign - Interactive
According to Google, the average holiday decision involves a whopping 50 searches on the internet over 2.5 hours. Here in the UK, four out of five of travel purchases are made online – the highest figure for any country in the world.
tripadvisor-20-ten-travel-websites-to-watch-8557378
Turquoise holidays are a travel specialist focusing on luxury holidays and honeymoons. They had a very visual product and wanted to publish it to tablet devices. They already had a range of PDF brochures available for download from their website, but saw the potential in having bespoke, interactive content on the iPad.
Tablet Brochure
Let Calcutta Surprise You
Digital Tourism Think Tank
At ITB Berlin last week, the 2013 " Golden City Gate " awards were presented to the best travel and tourism related media/marketing videos, in various categories. We have selected some out of the full list, below. Visit Finland : Land of The Midnight Sun India : Incredible India 2013 Tourism British Columbia : Come to your Sense (Taste) Visit Norway : The Scream from Norway - Travel Alberta : Summer 2012 – "There Is" Dublin Convention Bureau : Meet in Dublin Stockholm : Glorious Stockholm Vienna Tourist Board : Vienna Calling – Barcelona Ministry of Foreign Affairs, Kazakhstan : Astana, EXPO 2017 Canadian Tourism : 35 Million Directors National Tourism Organisation of Serbia : Souldfood Serbia Portugal: Rota Vicentina – Two steps to Freedom Live Riga : ShareRiga Mythical Peloponnese : Mythical Peloponnese
The best tourism marketing videos of 2013, by Skift
With Brand USA, a campaign to lure foreign tourists — and their money
Three reasons why advertising and social media don't mix
30 content marketing tips for independent hotels and hotel groups
Google Hotel Finder: 3 belangrijke ranking factoren
32 Must-Read Video Marketing Blog Posts - SmartShoot
How to Make Video a Successful Part of Your Content Marketing Strategy
In Travel, We're All Boomers Now
In Travel, We're All Boomers Now
How Your Brand Can Make The Most Out Of Breaking News
Top 10 Hospitality Industry Trends for 2013 | By Robert A. Rauch
Destination Marketing: Social Media Campaigns that Work | abouTourism
Why is Video Marketing So Important? - Video Maker Tips
Social media and fancy video to lure people to the latest Best Job in Travel
NTA Explores Millennial Generation Travel | Travel Agent Central
One Night in Bangkok: Instagram Reveals 2012 Photo Hotspots
Top 10 Social Media Resources for the Travel Industry - Salesforce Marketing Cloud
Social media affecting travel decisions - Story | The Star Online
How May I Help You? - Project Eve
Technology Infographics / Travel videos matter Along the traveler's road to decision #infografia #infographic #marketing #tourism
Montana Tourism's embarrassing Facebook fail
The State of Facebook: What's Working Now
Automatische ondertiteling Youtube nu ook in het Nederlands
Sexy travel advertising
Kill the Sales and Marketing Funnel
Stageplaats: Online marketing
How to respond to a negative TripAdvisor review
Social Media Case Study
Great customer experience don't let fear get in the way | Adrian Swinscoe
Social Media and the Hotel Industry, Why They are a Perfect Match
HotelMe attracts $3M in funding and USA Today as partner for unique hotel review site
10 Things You Didn't Know About Yelp
Success Is A Journey: Marketing Video by Gisteo.com
Win big in the distribution landscape
Mobile and Facebook Hotel Bookings on the Rise
Is traditional marketing really dead for the tourism industry? | Bluffton Today
Delhaize ontzegt senioren toegang na 16 uur « TV Olen
How a hotel should use Groupon effectively
The power of locals in destination marketing
Over 1 Billion Ways to Say 'Come Visit' | News
How To Use Pinterest For Marketing Research
Tourism Ireland video goes viral - The Irish Times - Wed, Jul 18
Travelmole
Every city needs a brand
Nassau Paradise Island Promotion Board Reaches Vacationers With YouTube
Teva The List - Deel je ultieme verhalen
8 Tips for Training Social Media Marketers
Chuck Studios
We Called It America - NOFX
Wouter De Jonckheere: videoboodschap carrière switch on Vimeo
Is print verleden tijd? (infograph)
5 Foolproof Ways to Generate Leads From Facebook
Value of North Shore Events (IMPACT STUDY) | SURF NEWS DAILY
Share photos and videos on Twitter
Mobile email design in practice: the new Campaign Monitor newsletter
Timothy Mouton — Online Marketing Manager Instruxion UK | The Making Money Experiment