Marketing
Customer Service and the Butterfly Effect. In many of his books, Andy Andrews talks about the butterfly effect, a theory put forward in a doctoral thesis by Edward Lorenz, a mathematician and meteorologist.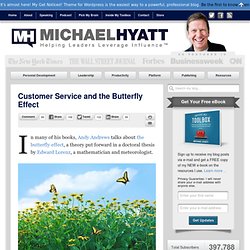 Photo courtesy of ©iStockphoto.com/diane39 In short the butterfly effect states that a butterfly can flap its wings on one side of the world and set in motion molecules of air that in turn set in motion other molecules of air and eventually create a hurricane on the other side of the world. Ridiculed for a generation, the butterfly effect was eventually proved by scientists and given the status of a law: "The law of sensitive dependence on initial conditions."
It basically means that everything you do—and don't do—matters. It has a bigger impact on the world than you can possibly imagine. Google Hotel Finder Goes Mobile. Google's Hotel Finder, which launched in June 2011, is now available on mobile devices.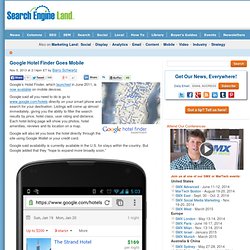 Google said all you need to do is go to www.google.com/hotels directly on your smart phone and search for your destination. Listings will come up almost immediately, giving you the ability to filter the search results by price, hotel class, user rating and distance. Each hotel listing page will show you photos, hotel amenities, reviews and its location on a map. Google will also let you book the hotel directly through the site using Google Wallet or your credit card. Google said availability is currently available in the U.S. for stays within the country. Video Optimization Tips for Your Online Presence ← Video Explainers BLOG. Video optimization tips If you are contemplating an explanatory video for your company, you need to define its purpose before deciding on its form.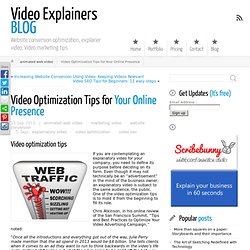 Even though it may not technically be an "advertisement" in the mind of the business owner, an explanatory video is subject to the same audience, the public. One of the video optimization tips is to mold it from the beginning to fill its role. Chris Atkinson, in his online review of the San Francisco Summit, "Tips and Best Practices to Optimize Your Video Advertising Campaign," noted: "Once all the introductions and everything got out of the way, Julie Perry made mention that the ad spend in 2013 would be $4 billion.
Vacatures. Toerisme Oostende vzw (www.visitoostende.be) is een stedelijke vzw die Oostende actief promoot als vakantiebestemming in zowel binnen- als buitenland.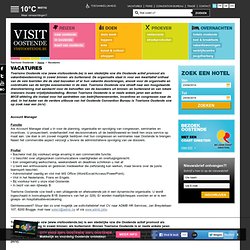 De organisatie staat in voor een kwalitatief onthaal van de vele toeristen die de stad bezoeken of er hun vakantie doorbrengen, alsook voor de organisatie en coördinatie van de talrijke evenementen in de stad. Toerisme Oostende vzw streeft naar een hoogstaande dienstverlening met aandacht voor de behoeften van de bezoekers uit binnen- en buitenland en van lokale inwoners inzake vrijetijdsbesteding. Binnen Toerisme Oostende is er reeds enkele jaren een actieve MICE-afdeling die instaat voor het aantrekken van bedrijfsevenementen, incentives en congressen naar de stad. In het kader van de verdere uitbouw van het Oostende Convention Bureau is Toerisme Oostende vzw op zoek naar een (m/v): Account Manager. The most popular mobile OTA and metasearch apps so far in 2013. Which travel apps were the most popular in the first half of 2013 for the United States and the United Kingdom?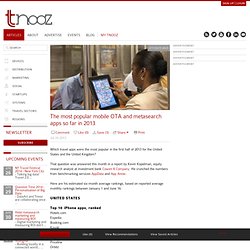 That question was answered this month in a report by Kevin Kopelman, equity research analyst at investment bank Cowen & Company. He crunched the numbers from benchmarking services AppData and App Annie. Here are his estimated six-month average rankings, based on reported average monthly rankings between January 1 and June 16: Top 10 iPhone apps, ranked Hotels.com Expedia Booking.com Kayak TripAdvisor Hotel Tonight Priceline Orbitz Airbnb HomeAway. 10 awesome digital marketing campaigns from Nike. Following on from Andrew Warren-Payne's post looking at various digital marketing campaigns from McDonald's, I thought it would be interesting to take a similar look at one of the world's biggest sport brands.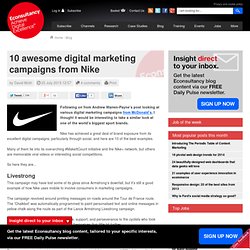 Nike has achieved a great deal of brand exposure from its excellent digital campaigns, particularly through social, and here are 10 of the best examples. Many of them tie into its overarching #MakeItCount initiative and the Nike+ network, but others are memorable viral videos or interesting social competitions. So here they are... Livestrong This campaign may have lost some of its gloss since Armstrong's downfall, but it's still a good example of how Nike uses mobile to involve consumers in marketing campaigns. Social Travel Agency Recommends Vacations Based On Hashtags [Video] As part of its promotions for its All-in-1 Travel package Vodafone Netherlands created a social travel agency that provides travelers with destination suggestions based on popular travel-related hashtags.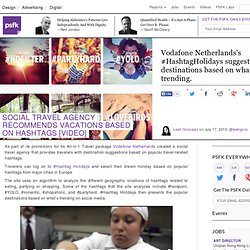 Travelers can log on to #Hashtag Holidays and select their dream holiday based on popular hashtags from major cities in Europe. The site uses an algorithm to analyze the different geographic locations of hashtags related to eating, partying or shopping. Some of the hashtags that the site analyzes include #foodporn, #YOLO, #romantic, #shopaholic, and #partyhard. #Hashtag Holidays then presents the popular destinations based on what's trending on social media. Visitors to the site are given a chance to win their dream holiday by checking in on the site when check-in opens each week. Flight Centre - Home page. Web Content Producer - Digital Distribution // Omni-ChannelSummaryThe role of the Web Content Producer requires proficiency in writing, editing, and web production skills to provide the efficient and timely publishing of website content for FC USA digital properties.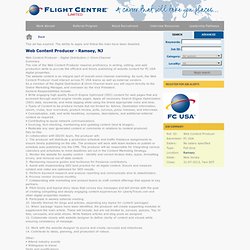 The website content is an integral part of overall omni-channel marketing. As such, the Web Content Producer must interact across FC USA teams as well as external vendors.As a member of the Digital Distribution & Omni-Channel team you will report directly to the Online Marketing Manager, and overseen by the Vice President.General Responsibilities include:• Write engaging high quality Search Engine Optimized (SEO) content for web pages that are accessed through search engine results pages. The Great Hospitality Three-Way: How Hotels Really Work. As of yesterday, five big resorts, including the Homestead in Virginia, Barton Creek in Austin, Tex., and La Costa in Carlsbad, Calif., shed their independence and joined Omni's Resort Collection.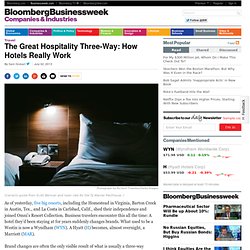 Business travelers encounter this all the time: A hotel they'd been staying at for years suddenly changes brands. What used to be a Westin is now a Wyndham (WYN). A Hyatt (H) becomes, almost overnight, a Marriott (MAR). Video Marketing with a Coupon Mentality: Why This Shouldn't Be the Approach. Swedishness. 13 predictable user experience problems on travel websites. It is a curious irony that you end up needing a holiday after trying to book a holiday online.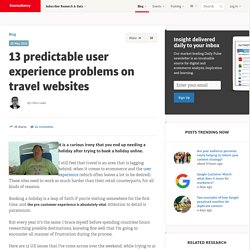 I still feel that travel is an area that is lagging behind, when it comes to ecommerce and the user experience (which often leaves a lot to be desired). These sites need to work so much harder than their retail counterparts, for all kinds of reasons. Booking a holiday is a leap of faith if you're visiting somewhere for the first time, and the pre-customer experience is absolutely vital . Attention to detail is paramount. But every year it's the same: I brace myself before spending countless hours researching possible destinations, knowing fine well that I'm going to encounter all manner of frustration during the process. You Can Observe a Lot by Watching Movie Trailers. NIXON SURF CHALLENGE 2013 | TEASER. How To Integrate Video Into A Robust Content Marketing Strategy. Video is powerful because it shows there are people behind your business, which is important for building a strong brand that people can relate to.
But how can you integrate it into your content marketing strategy effectively? Know Your Audience. Stimorolthy : Santini Icecream |... Santini : I Gelati Più Fini del Mondo. The dark side of ecommerce. The explosive growth of transactional and online shopper data means consumers are swamped with information. In just one internet minute, there are now 2m Google search queries, £83,000 in sales on Amazon.co.uk, 100,000 new Tweets and 6m Facebook views.
The retail industry is no exception. Whilst in-store product ranges are limited by the physical constraints of shelf-space, online retailers can display ten times the amount of products on their sites. This leaves consumers with overwhelming choice. Yet research shows that most products are going un-noticed. Colorado Turns to Masses For New Tourism Campaign - Interactive. Tripadvisor-20-ten-travel-websites-to-watch-8557378. According to Google, the average holiday decision involves a whopping 50 searches on the internet over 2.5 hours. Here in the UK, four out of five of travel purchases are made online – the highest figure for any country in the world. With TripAdvisor now worth an estimated £2.5bn, it's not hard to see why companies are clamouring for its crown. "Consumers like to read what other consumers think about somewhere they have visited," says Kevin May of travel-tech website Tnooz (tnooz.com).
"It is called 'the wisdom of the crowd' – and TripAdvisor uses that very well. " The main problem for those vying to be TripAdvisor 2.0 is the battle for online visitors – managing to survive as a new website until a critical mass of reviews has been achieved, and enough social buzz to make them successful. Tablet Brochure. Turquoise holidays are a travel specialist focusing on luxury holidays and honeymoons.
With a very visual product Turquoise wanted to create an iPad brochure which was unique in the market. As with most other travel companies they only had PDF brochures available to view from their website, but saw the potential in having a bespoke, interactive travel app that engaged their growing tablet audience. Let Calcutta Surprise You. Digital Tourism Think Tank. The best tourism marketing videos of 2013, by Skift. Visit Finland's "Land of The Midnight Sun", among the best tourism marketing videos of 2012-2013. At ITB Berlin last week, the 2013 "Golden City Gate" awards were presented to the best travel and tourism related media/marketing videos, in various categories.
We have selected some out of the full list, below. With Brand USA, a campaign to lure foreign tourists — and their money. Three reasons why advertising and social media don't mix. 30 content marketing tips for independent hotels and hotel groups. Google Hotel Finder: 3 belangrijke ranking factoren. 32 Must-Read Video Marketing Blog Posts - SmartShoot. How to Make Video a Successful Part of Your Content Marketing Strategy. In Travel, We're All Boomers Now. In Travel, We're All Boomers Now. How Your Brand Can Make The Most Out Of Breaking News. Top 10 Hospitality Industry Trends for 2013 | By Robert A. Rauch.
Destination Marketing: Social Media Campaigns that Work | abouTourism. Why is Video Marketing So Important? - Video Maker Tips. Social media and fancy video to lure people to the latest Best Job in Travel. NTA Explores Millennial Generation Travel. One Night in Bangkok: Instagram Reveals 2012 Photo Hotspots. Top 10 Social Media Resources for the Travel Industry. Social media affecting travel decisions - Story. How May I Help You? Technology Infographics / Travel videos matter Along the traveler's road to decision #infografia #infographic #marketing #tourism. Montana Tourism's embarrassing Facebook fail. The State of Facebook: What's Working Now. Automatische ondertiteling Youtube nu ook in het Nederlands. Sexy travel advertising. Kill the Sales and Marketing Funnel.
How to respond to a negative TripAdvisor review. Social Media Case Study. Great customer experience don't let fear get in the way. Social Media and the Hotel Industry, Why They are a Perfect Match. HotelMe attracts $3M in funding and USA Today as partner for unique hotel review site. 10 Things You Didn't Know About Yelp. Success Is A Journey: Marketing Video by Gisteo.com. Win big in the distribution landscape. Mobile and Facebook Hotel Bookings on the Rise. Is traditional marketing really dead for the tourism industry? | Bluffton Today. Delhaize ontzegt senioren toegang na 16 uur « TV Olen. How a hotel should use Groupon effectively. The power of locals in destination marketing.
Over 1 Billion Ways to Say 'Come Visit' | News. How To Use Pinterest For Marketing Research. Travelmole. Every city needs a brand. Teva The List - Deel je ultieme verhalen. 8 Tips for Training Social Media Marketers. Chuck Studios. We Called It America - NOFX. Wouter De Jonckheere: videoboodschap carrière switch. 5 Foolproof Ways to Generate Leads From Facebook. Value of North Shore Events (IMPACT STUDY) | SURF NEWS DAILY. Share photos and videos on Twitter. Mobile email design in practice: the new Campaign Monitor newsletter. Timothy Mouton — Online Marketing Manager Instruxion UK | The Making Money Experiment.
---