iPhone/iPad
8 Awesome Apps to Remotely Control your PC from iPad. Have you ever thought about remotely controlling your computer via iPad ?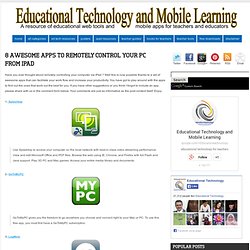 Well this is now possible thanks to a set of awesome apps that can facilitate your work flow and increase your productivity. You have got to play around with the apps to find out the ones that work out the best for you. If you have other suggestions or you think I forgot to include an app, please share with us in the comment form below. Your comments are just as informative as the post content itself. Enjoy. 7 Great Tools to see how your website looks on the iPhone. With about 82 million Smartphone users in the US, and another 8 million in Canada and the apple iphone accounting for approx 23% of this market its important that your website is accessible to this new mobile workforce, therefore we have assembled a list of online resources to assist you in checking how your website displays on the iphone.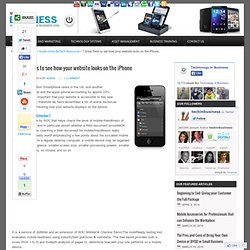 W3C mobileOK Checker? It is a free service by W3C that helps check the level of mobile-friendliness of Web documents, and in particular assert whether a Web document ismobileOK. To understand why checking a Web document for mobile-friendliness really matters, it is probably worth emphasizing a few points about the so-called mobile world. Compared to a regular desktop computer, a mobile device may be regarded as limited at first glance: smaller screen size, smaller processing powers, smaller amount of memory, no mouse, and so on Ready.Mobi.
My 10 Favorite iPad Apps Used In The Classroom. Technology has gone a long way in all spheres, even in education.
Now, teaching and preparation for teaching can be done in a much easier way than before. Thanks to the iPad, teachers will have a fabulous new opportunity to use the different apps to create their study material in a marvelous way. Want to know how? Here are a few of my favorites: The Teacher's iPad Spectrum. 10 Great Writing iPad Apps for Teachers and Students. It is amazing how fast the iTunes app store is growing, no sooner does an app appear then it becomes outdated.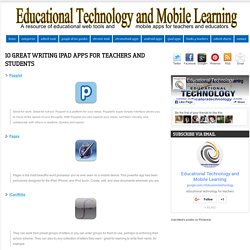 It seems like app developers outnumber customers and this is a good thing for us because with the growing competition comes enhanced productivity. However, searching for educational apps to use or recommend for your kids and students is not an easy task and the abundance of apps does not mean anything out there does what its developers claim.
What Students Can Actually DO With An iPad. Online, in workshops, and even with friends, I frequently get asked What can the iPad actually do?
As a sort of challenge to the worth of the device. I would rather that they ask, What can you actually do with an iPad? So last week, in preparing for the New England Reading Association Conference and the NYSCATE Mobile Learning Summit , I decided to change my approach. Rather than structure my presentations by tool, or by app, or even by project, I organized myself around desired student outcomes – aka. what students can actually do. 50 Impressive iPad Apps to Fuel Lifelong Learners. Long after degrees have been conferred and careers have been launched, many folks just can't seem to quit school.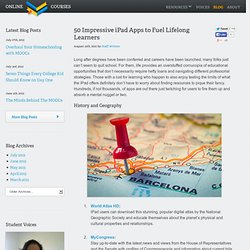 For them, life provides an overstuffed cornucopia of educational opportunities that don't necessarily require hefty loans and navigating different professorial strategies. Those with a lust for learning who happen to also enjoy testing the limits of what the iPad offers definitely don't have to worry about finding resources to pique their fancy. Hundreds, if not thousands, of apps are out there just twitching for users to fire them up and absorb a mental nugget or two. History and Geography. 5 iPhone Apps for Students With Disabilities. Photo Credit: smh.com.au You may not realize it, but people with disabilities are also at a disadvantage when it comes to education.
Studies show that 54 million Americans have disabilities. 28% of those with disabilities aged 25 and above barely even finished high school. More than 16 million people in America have a mental illness or a cognitive function problem while 3 million people have difficulty with speech communication, thus hindering them from learning independently. However, learning can be facilitated, even for people with disabilities, through the help of mobile devices like the iPhone. One iPad in the Classroom? – Top 10 Apps.
(www.langwitches.org) From a BYOD (Bring Your Own Device) programme to a 1:1 iPad initiative there are a number of options available to schools when embracing new technology in the classroom.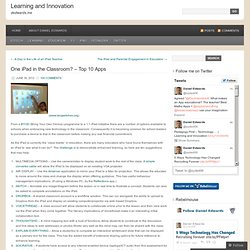 Consequently it is becoming common for school leaders to purchase a device to trial in the classroom before making any real financial commitment. As the iPad is currently the 'class leader' in education, there are many educators who have found themselves with an iPad to 'see what it can do?' The challenge is to demonstrate enhanced learning, so here are ten suggestions that may help: How to Load Games Onto Your iPod: 7 steps. 50 best free iPhone games on the planet. It's safe to say that Apple's given the gaming industry a square kick in the tender regions.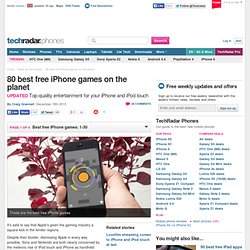 Despite their bluster, dismissing Apple in every way possible, Sony and Nintendo are both clearly concerned by the meteoric rise of iPod touch and iPhone as handheld gaming devices. Although great games are the driving force behind the success of Apple gaming, low prices have also helped. The Big Problem With iPads In The Classroom. The younger generation doesn't do boredom - it must have an iPad or iPhone to hand. The iPad joins comics and the spinning top as a ruiner of childhood: more tales of total bollocks. iPad for Teaching & Learning. 15 Reasons To Use Your Apple iPhone. I don't know if you have noticed but there is a global war that has broken out and it is not in Afghanisatan or Iraq.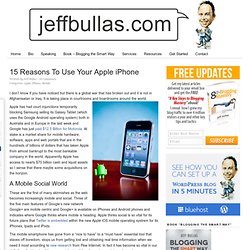 It is taking place in courtrooms and boardrooms around the world. Apple has had court injunctions temporarily blocking Samsung selling its Galaxy Tablet (which uses the Google Android operating system) both in Australia and in Europe in the last week and Google has just paid $12.5 Billion for Motorola. At stake is a market share for mobile hardware, software, apps and web portals that are in the hundreds of billions of dollars that has taken Apple from almost bankrupt to the most bankable company in the world. Apparently Apple has access to nearly $70 billion cash and liquid assets so I sense that there maybe some acquisitions on the horizon. 5 Simple (But Hidden!) Tricks All The New iPhone/iPad Owners Should Know. Once upon a time, the iPhone was a simple thing. You flipped it on, slid the unlock switch, and what you saw was what you got. Since then, things have gotten a bit more… layered.
That's not to say they've gotten any harder to use; iOS just has a ridiculous number of hidden bonus features now that are in no way immediately obvious to the untrained eye. Given that yesterday was Christmas, I'd wager that the number of untrained eyes out there is at an all-time high. If you consider yourself something of an iOS expert, this list isn't for you. Samsung behind 25% of iPhone 4 parts. Full image in the extended post Does the title surprise you? It certainly did make me sit up quite a bit – after all, aren't Samsung and Apple embroiled in a rather bitter legal feud at the moment, with Samsung's Galaxy Tab 10.1 being barred from hitting the market not only in Australia, but halfway around the world in most of Europe?
---