Facebook
Facebook Usage Is On The Decline...So Who's Next? This is a very exciting time that we live in because our generation is witnessing not only the rise of social media in real time, but the rise of the Internet in general.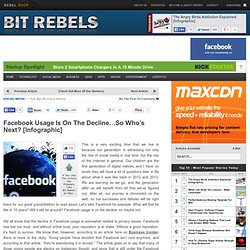 Our children are the first generation of digital natives, and I have no doubt they will have a lot of questions later in life about what it was like back in 2012 and 2013. We are learning as we go, and the generation after us will benefit from all that we've figured out. After all, our journey is chronicled on the web, so our successes and failures will be right there for our great grandchildren to read about.
Let's take Facebook for example. How to Remove a Person From your Facebook News Feed (Without UnFriending Them)! How to Remove a Person From your Facebook News Feed (Without UnFriending Them)!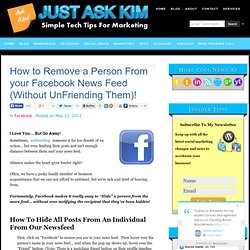 I Love You… But Go Away! Sometimes, unfriending someone is far too drastic of an action… but even limiting their posts just isn't enough distance between them and your news feed. Absence makes the heart grow fonder right? The Five Reasons Why Most Facebook Brand Pages Aren't True Communities | brand communities. - StumbleUpon. Facebook did it again !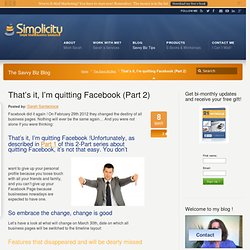 On February 29th 2012 they changed the destiny of all business pages. Nothing will ever be the same again… And you were not alone if you were thinking: That's it, I'm quitting Facebook ! A Beginner's Guide to Facebook Insights. Ekaterina Walter is a social media strategist at Intel.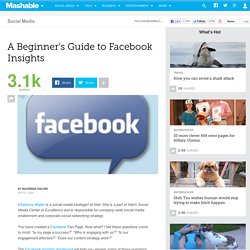 She is a part of Intel's Social Media Center of Excellence and is responsible for company-wide social media enablement and corporate social networking strategy. You have created a Facebook Fan Page. Now what? I bet these questions come to mind: "Is my page a success?" Steve's UK art & creative Daily. How To Advertise On Facebook In Ten Minutes For Less Than $10 A Day In 10 Simple Steps. Facebook is starting to ramp up its revenue as it leverages its 600 million user database with all its captured personal data that people have entered when registering.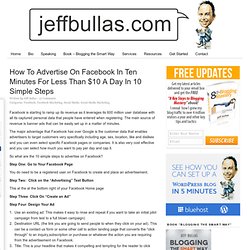 The main source of revenue is banner ads that can be easily set up in a matter of minutes. The major advantage that Facebook has over Google is the customer data that enables advertisers to target customers very specifically including age, sex, location, like and dislikes and you can even select specific Facebook pages or companies. It is also very cost effective and you can select how much you want to pay per day and cap it. Facebook Landing Pages « Kasia Piekut. Are facebook pages becoming the new websites for small business?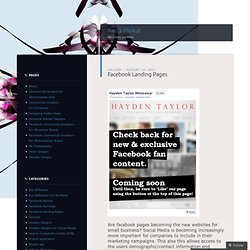 Social Media is becoming increasingly more important for companies to include in their marketing campaigns. This also this allows access to the users demographic/contact information and regardless of engagement. It is very important how do you greed your new Fans and introduce yourself to them. Using Facebook ads to build LinkedIn talent pools - mpheywood's posterous. 7 Tools To Have A Phenomenal Social Media Workflow. What is the most crucial part to consider when getting fully started on Social Media?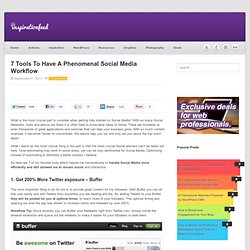 With so many Social Networks, tools and advice out there it is often hard to know what ideas to follow. There are hundreds or even thousands of great applications and services that can help your business grow. Facebook for Business . . . a Skeptic Starts to Come Around. For someone who writes often about social media, and who occasionally advises companies about how to roll social media into their content marketing efforts, I have a confession that may surprise you: I don't have much of a business presence on Facebook.
In fact, until recently, I was against it. After all, there's a perfectly good business version of Facebook called LinkedIn, and even if you manage to get privacy settings tweaked to separate your personal from business identities, there's no guarantee Facebook won't screw it up with some update or another. Is Facebook right for B2B? However, despite my rather vocal skepticism, Sandstorm Media's web guru, Lindsay Armstrong, kept badgering me to put up a Sandstorm Media fan page.
I finally relented, but I've done little to promote it, and I'm still not 100% convinced Facebook is the right medium for business.
---