Mobile
iPhoneWebDev. N95 - new firmware version 11.0.026 is now available : Other manufacturers : General discussions @ Esato. The Nokia N95 is updated - v11.0.026! - All About Symbian Forums. Just updated by changing my product code to euro 1 from voda uk.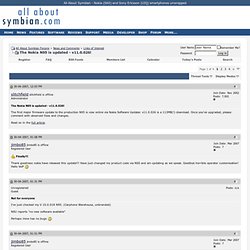 All seemed fine until i backed up from memory card. Phone forced restart then got the dreaded "Startup failed. Contact the retailer" message. Fortunately I restored the phone by using the method below: Press and hold 3 keys; Green dial key, * Star key, no. 3 key on keypad and then press the power on/off to switch on the Nokia N95. Remember, do not let go the 3 press and hold keys until you see the formatting screen. How To: Update Nokia N95 8GB Product Codes For Changing Language Packs | The Nokia Blog. November 19th, 2007 • Mark Guim • Update your Nokia N95 8GB to a firmware with your preferred language pack by changing the product code on your phone.
Updating your Nokia N95 8GB to the latest firmware, and/or changing the language pack is similar to the guide I wrote earlier on changing the product codes in the Nokia N95-1. If you are a new Nokia N95 8GB owner, this might be helpful if you want a different language pack in your new phone. Download and install: Nemesis Service Suite and the latest Nokia Software Update. Vampent. Symbian s60 symbianism.site666.info.
Nokia N95 Debranding Guide. Hi,I have seen that a lot of people on various forums/blogs are in need of a guide showing how to debrand the Nokia N95.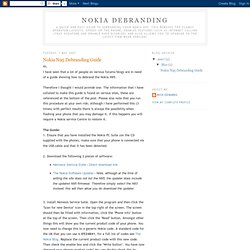 Therefore I thought I would provide one. The information that I have collated to make this guide is found on various sites, these are referenced at the bottom of the post. Mobyko.
---