Blog
Blog Smarter | Zemanta Ltd.
Post Secret Archive
MetaFilter | Community Weblog
kottke.org - home of fine hypertext products
PostSecret
The Awesomer
Lazy Pythonista
Stevey's Blog Rants
Programming
First off, I apologize for the title - I couldn't resist. (If you don't know what the title is talking about, see this video). I ... Popurls has quickly grown to be one of my favorite websites helping me keep track what's buzzing around the web. It's a simple site that ...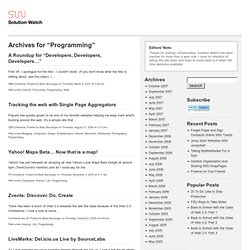 clivejames.com
Wikia Central
Lifehacker, the Productivity and Software Guide