Infrigments
What if Citizens United Actually United the Citizens? January 22, 2012 | Like this article?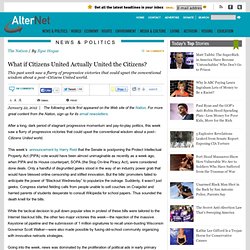 Join our email list: Stay up to date with the latest headlines via email. The following article first appeared on the Web site of the Nation. For more great content from the Nation, sign up for its email newsletters. MEGAUPLOAD IS DOWN!! Due to S.O.P.A (Original Anonymous - Operation Blackout, warning video) - Mindbook. Today In SOPA News: What You Need To Know And How It Might Affect You. It just got real.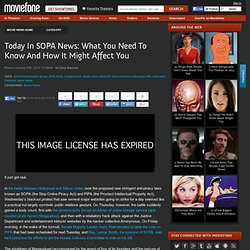 In the battle between Hollywood and Silicon Valley over the proposed new stringent anti-piracy laws known as SOPA (the Stop Online Piracy Act) and PIPA (the Proctect Intellectual Property Act), Wednesday's blackout protest that saw several major websites going on strike for a day seemed like a practical but largely symbolic public relations gesture. On Thursday, however, the battle suddenly gained a body count, first with the government's forced shutdown of online storage service (and reputed pirate haven) Megaupload, and then with a retaliatory hack attack against the Justice Department and entertainment lobbyist websites by the hacker collective Anonymous.
Goverments mass tracking. Obama Says So Long SOPA, Killing Controversial Internet Piracy Legislation. PIPA Loses Support With New Senators Opposing | Floating Path. Protect IP, SOPA supporters vow not to give up fight | Privacy Inc. Internet opponents of a pair of controversial Hollywood-backed copyright bills won a temporary reprieve today, when upcoming votes in the Senate and House of Representatives were postponed .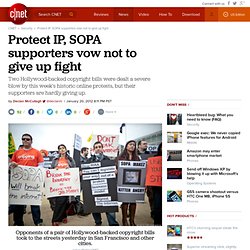 But the lobbyists and politicians backing the Stop Online Piracy Act, or SOPA, and Protect IP haven't given up. "We must take action to stop" online piracy and counterfeiting, Senate Majority Leader Harry Reid, a Democrat, said today. SOPA Blackout Aims To Block Internet Censorship Bill. Thousands of websites, including some of the most popular, are going dark today to protest the Stop Online Piracy Act, a bill which is designed to thwart copyright infringement but that Web experts warn could threaten the functionality of the Internet.
Encyclopedia giant Wikipedia, popular news-sharing site reddit, browser pioneer Mozilla, photo-sharing favorite Twitpic and even ICanHazCheezburger.com are blocking access to content throughout Wednesday, symbolizing what the bill may allow content creators to do to sites they accuse of copyright infringement. Other websites, including Google, are expressing solidarity with the protests by featuring anti-SOPA content on home pages. The online protests are being joined by a physical demonstration in New York City, where thousands of representatives from the city's tech industry plan to demonstrate outside the offices of Sens.
---