Health
The Mindful Foodie - Part 1
Ener-Chi Wellness Center - Your Trusted Source for Natural Healing
In 1999, Andreas Moritz opened the Ener-Chi Wellness Center to assist individuals in achieving optimal health and well-being of their body, mind and spirit. Author of 14 books including The Amazing Liver and Gallbladder Flush, Timeless Secrets of Health & Rejuvenation, and Cancer is Not a Disease. Andreas is also the creator of Ener-Chi Art, Sacred Santémony and other unique wellness modalities. After having worked in the natural health field for nearly 40 years, Andreas arrived at the conclusion that it is relatively easy to achieve good health, slow the aging process and live a fulfilling, vibrant, happy life. Treating or combating the symptoms of disease, on the other hand, can be very stressful and complicated, and it tends to generate a host of potentially serious side-effects that merely breed new diseases. Each year, over 900,000 Americans lose their lives as a result of medical treatment, not the diseases they are diagnosed with.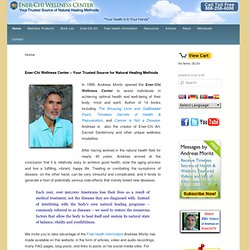 Natural health news
Invalid format for email address. Email address required. Member Name must be between 3 and 50 characters. Member Names must can only contain letters and numbers. Member Name required. First Name 128 character maximum.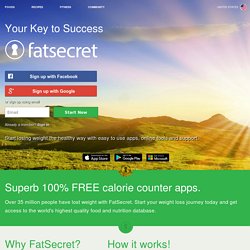 All Things Food and Diet - FatSecret
Real Food Source Home Page
Organic food, vegetables, fruit, meat : riverford organic vegetables
New Vegan Buttery Spread & Vegan Superfood Shortening We're excited to announce the launch of our new line of red palm oil products: Buttery Spread • Shortening • Sunflower Red Palm Blend – Medium Heat OilThese new items make it easy to incorporate the health and flavor benefits of red palm into your diet. They are available now at Whole Foods and will be coming soon to other stores. Same Superfoods, New Super Look: The Story of a Re-brand
Nutiva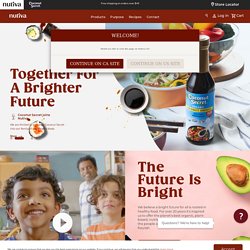 Alliance for Natural Health International
Amazon.co.uk: now foods: Health & Beauty
PremierResearchLabs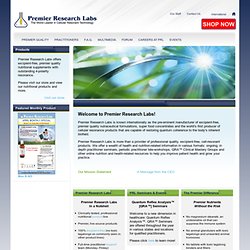 Premier Research Labs is known internationally as the pre-eminent manufacturer of excipient-free, premier quality nutraceutical formulations, super food concentrates and the world's first producer of cellular resonance products that are capable of restoring quantum coherence to the body's inherent biofield. Premier Research Labs is more than a provider of professional quality, excipient-free, cell-resonant products. We offer a wealth of health and nutrition-related information in various formats: ongoing, in depth practitioner seminars, periodic practitioner tele-workshops, QRA™ Clinical Mastery Groups and other online nutrition and health-related resources to help you improve patient health and grow your practice. Our Mission Statement A Message from the CEO Premier Research Labs Premier Research LabsIn a Nutshell
Vegetarian Running | No Meat Athlete
When we interviewed plant-based Ultraman, Rich Roll earlier this year, we were blown away by the positive response. From Ironman Champion triathletes to people who had never hopped on a bike, everyone was inspired by Rich's transformation of his body and mind. Much of the curiosity focused on one key part of Rich's reinvention: food. What does this 44-year-old Ultraman eat? Where and how does he get his protein? Rich and his wife, Julie Piatt, are sharing the meals that have nourished and energized their family in their vegan e-cookbook, Jai Seed.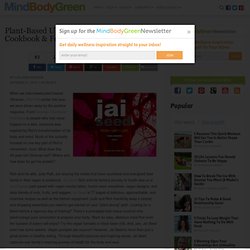 Plant-Based Ultraman Rich Roll's New Cookbook & Food Philosophy
DoctorMyhill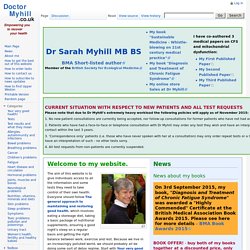 The aim of this website is to give individuals access to all the information and some tests they need to take control of their own health. Everyone should follow The general approach to maintaining and restoring good health, which involves eating a stoneage diet, taking a basic package of nutritional supplements, ensuring a good night's sleep on a regular basis and getting the right balance between work, exercise and rest. Because we live in an increasingly polluted world, we should probably all be doing some sort of detox regime. Start with Your very good health! Please, also note that what is contained within this website are my opinions, which I believe have a scientific and logical basis. Some of the advice may be over and above National Guidelines.
Natural Health Information Articles and Health Newsletter by Dr. Joseph Mercola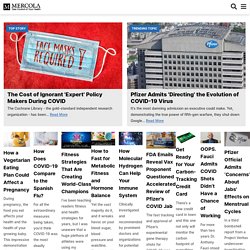 Dr. Mercola has made significant milestones in his mission to bring people practical solutions to their health problems. A New York Times Best Selling Author, Dr. Mercola was also voted the 2009 Ultimate Wellness Game Changer by the Huffington Post, and has been featured in TIME magazine, LA Times , CNN, Fox News, ABC News, Today Show, CBS's Washington Unplugged with Sharyl Attkisson, and other major media resources. (Discover More...) Medical License:
AskMen UK - Men's Online Magazine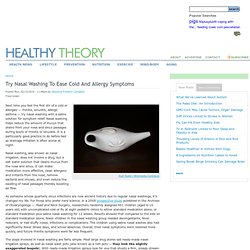 Try Nasal Washing To Ease Cold And Allergy Symptoms | Healthy Theory
Next time you feel the first stir of a cold or allergies — rhinitis, sinusitis, allergic asthma — try nasal washing with a saline solution for symptom relief. Nasal washing helps reduce the amount of mucus that drains from your nose and sinus passages during bouts of rhinitis or sinusitis. It is a particularly good practice to do before bed as drainage irritation is often worse at night.
Welcome to the Alliance for Natural Health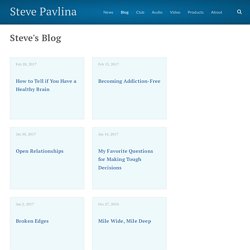 I've been really diving into Trello this week, which I mentioned in my December 2013 Updates post. I now have 17 different Trello boards for managing various projects. You know me — when I get into something new, I love to fully immerse myself in it. Best way to learn quickly. More than 100 people have signed up for Trello based on my recommendation in the past few days, and I'm sure hundreds more will sign up soon, so I'll share a bit more about how I'm using it. I don't get paid for referrals since it's a free service, but I can see how many people sign up via my referral link.
Switching to Biphasic Sleeping? Start here.