Transmedia Research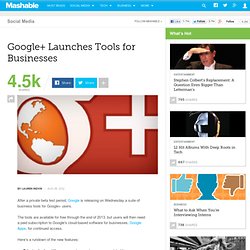 Google+ Launches Tools for Businesses
After a private beta test period, Google is releasing on Wednesday a suite of business tools for Google+ users. The tools are available for free through the end of 2013, but users will then need a paid subscription to Google's cloud-based software for businesses, Google Apps, for continued access.
Social Media: Engage With Your Audience As A Whole Person – [video] | Latest Marketing News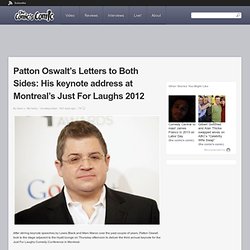 After stirring keynote speeches by Lewis Black and Marc Maron over the past couple of years, Patton Oswalt took to the stage adjacent to the Hyatt lounge on Thursday afternoon to deliver the third annual keynote for the Just For Laughs Comedy Conference in Montreal. Oswalt employed self-deprecation right off the bat, joking that he was far from JFL's first choice to address the comedians, industry and fans in the audience. "Luckily for me, none of them could be bothered to wake up before 1 p.m.," he said.
Patton Oswalt's Letters to Both Sides: His keynote address at Montreal's Just For Laughs 2012 | The Comic's Comic
What is Media Manipulation?--A Definition and Explanation
Brooke Thompson : GiantMice.com
Personalizemedia
Universe Creation 101
Alliteration Ink News: Eighth Day Genesis: A Worldbuilding Codex
The Preternatural Post | The news resource for fictional characters, legendary creatures, their fans and creators.
Christy's Corner of the Universe: cross-platform, creative practice, strategy, research, marketing, life...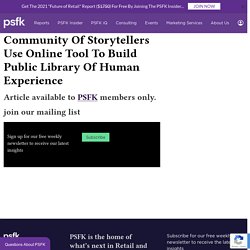 The online project Cowbird is a place where storytellers can keep audio-visual diaries, write stories and collaborate with others in documenting "sagas" taking place in the world, like the Occupy movement.
Community of Storytellers Build Online Library of Human Experience
Small Demons — Welcome to the Storyverse
Shared Story Worlds |
Shadow Unit