Transmedia Research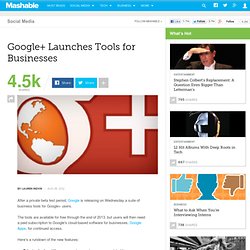 Google+ Launches Tools for Businesses
After a private beta test period, Google is releasing on Wednesday a suite of business tools for Google+ users. The tools are available for free through the end of 2013, but users will then need a paid subscription to Google's cloud-based software for businesses, Google Apps, for continued access. Here's a rundown of the new features: Private sharing. When you create a post, you can now label it as "restricted." This will limit its visibility to those inside your organization (plus a few external partners if you so choose), and can't be re-shared with anyone on the outside.Administrative controls.
Social Media: Engage With Your Audience As A Whole Person – [video] | Latest Marketing News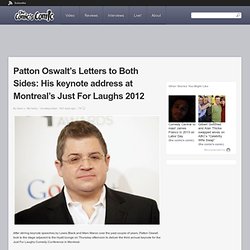 After stirring keynote speeches by Lewis Black and Marc Maron over the past couple of years, Patton Oswalt took to the stage adjacent to the Hyatt lounge on Thursday afternoon to deliver the third annual keynote for the Just For Laughs Comedy Conference in Montreal. Oswalt employed self-deprecation right off the bat, joking that he was far from JFL's first choice to address the comedians, industry and fans in the audience. "Luckily for me, none of them could be bothered to wake up before 1 p.m.," he said.
Patton Oswalt's Letters to Both Sides: His keynote address at Montreal's Just For Laughs 2012 | The Comic's Comic
What is Media Manipulation?--A Definition and Explanation
Brooke Thompson is a freelance experience designer specializing in alternate reality gaming, transmedia storytelling, and real world play. A pioneer in the field, she has nearly ten years experience that includes a number of award-winning projects. immersive experiences designing them, planning them, developing them it's what I do it's what I've always done not that I understood that when I was five years old guiding my friends through afternoons of play inside, outside at the pool, on the porch, in the yard as the word grew up and found the internet, so did I I never lost my sense of play or wonder the world didn't either
Brooke Thompson : GiantMice.com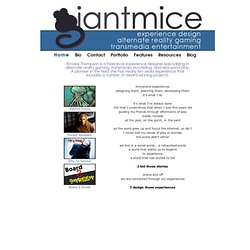 Personalizemedia
Why are TV companies often the worst offenders when it comes to producing original and creative multiplatform offerings? Why are most just serving up brochure websites, the occassional 'send in your video via YouTube' or 'tweet in what you think, we really want to know'? Where are all the great integrated-with-show online, game and mobile offerings, all the innovative 2nd/3rd screen stuff and really resonant social audience contribution? TV Broadcasters are fighting dwindling audiences overall (apart from great golden age US drama & singing talent shows of course) and struggling to come up with great multiplatform strategies to help reach and re-connect audiences to TV shows? Why is this?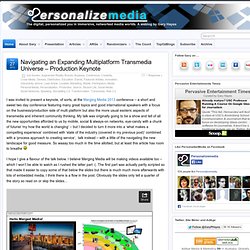 Universe Creation 101 is about creating playful stories. Universe Creation 101 is headed by Christy Dena, a writer-designer-director who has worked on award-winning pervasive games, film, digital and theatre projects. Clients include Nokia, Cisco/No Mimes Media, ABC, Wieden+Kennedy, Bangarra Dance Theatre, Noah Falstein, Ken Eklund & Agency of Coney, and more. Christy has been granted Australia's first Digital Writing Residency at The Cube for her project "Robot University," thanks to the Australia Council for the Arts and QUT. In 2012, she was the "Digital Writing Ambassador" for the Emerging Writers Festival; and a prototype of her web audio adventure "AUTHENTIC IN ALL CAPS" was Finalist for "Best Writing in a Game" Award at the Freeplay Independent Gaming Festival.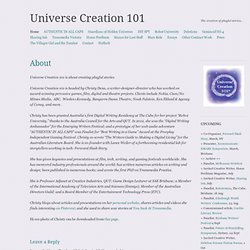 Universe Creation 101
Alliteration Ink News: Eighth Day Genesis: A Worldbuilding Codex
The Preternatural Post | The news resource for fictional characters, legendary creatures, their fans and creators.
Christy's Corner of the Universe: cross-platform, creative practice, strategy, research, marketing, life...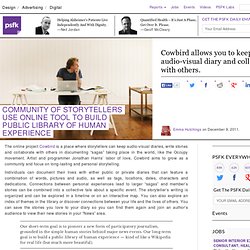 The online project Cowbird is a place where storytellers can keep audio-visual diaries, write stories and collaborate with others in documenting "sagas" taking place in the world, like the Occupy movement. Artist and programmer Jonathan Harris' labor of love, Cowbird aims to grow as a community and focus on long-lasting and personal storytelling. Individuals can document their lives with either public or private diaries that can feature a combination of words, pictures and audio, as well as tags, locations, dates, characters and dedications.
Community of Storytellers Build Online Library of Human Experience
Small Demons — Welcome to the Storyverse
Shared Story Worlds |
Just go, she thought, and hefted the backpack. Just disappear. Eugene's snores echoed under the rising wind. It was difficult to think of hurting him, but the voices, the voices were calling.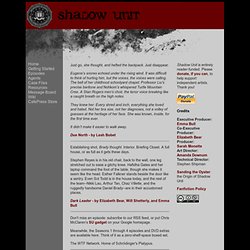 Shadow Unit