Pulps & Pulp-Inspired Materials
This is a Kickstarter project. Kickstarter is the most popular form of Crowd Funding available today. Kickstarter allows people with a dream to take that dream directly to you.
The Hogben Chronicles of Henry Kuttner by Borderlands Press
The Alluring Art of Margaret Brundage: Queen of Pulp Pin-up Art (9781934331491): Stephen D. Korshak, J. David Sopurlock
Science Fiction and Fantasy Creators Who Became Their Own Genres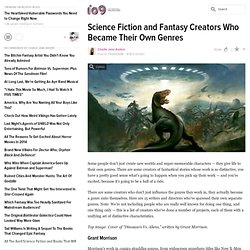 Obviously everyone (including myself) will argue that their favourite authors are distinct from all others due to style/setting/content but, to a lesser or greater degree, that can be said of most the authors listed above. What the distinction might/should be is how recognised or unique that their work is.
Why We Need Big, Bold Science Fiction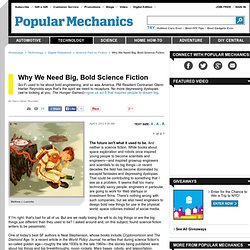 The future isn't what it used to be. And neither is science fiction.
Amongst The New Pulpeteers (Or, "What The Good Goddamn Is 'New Pulp,' Anyway?")
I don't know what New Pulp is. But I think I'm it. Or, in it.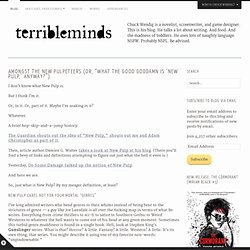 New Pulp Fiction for Our New Hard Times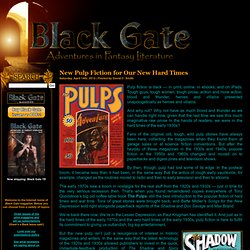 Pulp fiction is back — in print, online, in ebooks, and on iPads.
Lost Classics of Pulp: Guy Boothby's Dr. Nikola and Pharos the Egyptian
Why Buck Rogers Should Be the Next Pulp SF Hero to Make a Comeback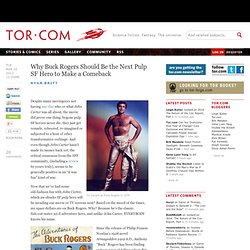 Gil Gerard as Buck Rogers in 1979 Despite many moviegoers not having any clue who or what John Carter was all about, the movie did prove one thing: bygone pulp SF heroes never die, they just get remade, rebooted, re-imagined or subjected to a host of other transformative verbiage.
Nice recommendations.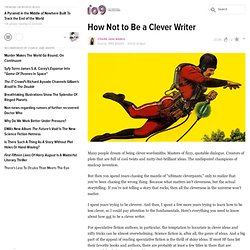 How Not to Be a Clever Writer — io9.com — Readability
A Documentary Film about the Extraordinary Edgar Rice Burroughs
The Life and Mind of Edgar Rice Burroughs by Mark Linthicum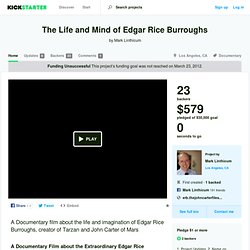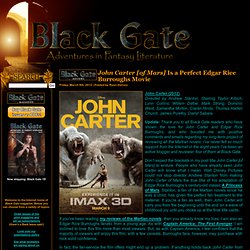 John Carter [of Mars] Is a Perfect Edgar Rice Burroughs Movie
John Carter (2012) Directed by Andrew Stanton.
Yellowed Perils: Yet another 'John Carter' post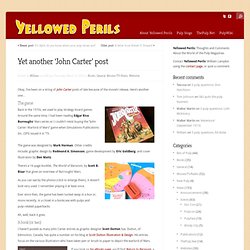 Okay, I've been on a string of John Carter posts of late because of the movie's release.
John Carter Film Review | INTO THE DARK by James Lowder | Flames Rising Webzine
John Carter 2012, 132 Minutes Disney Director: Andrew Stanton Cast: Taylor Kitsch, Lynn Collins, Mark Strong, Dominic West, Willem Dafoe *** ½ (of 5) Before he secured his place in the annals of international pop culture with the Tarzan stories, Edgar Rice Burroughs offered up the initial adventure in the far more interesting and inventive Barsoom series.
MusingSES
Building An Elder God by Jamie Chambers
That old book you found in that locked safe in the hidden room underneath the Arkham library had some pretty interesting tidbits — including a formula to grow a terrifying tentacled beast.
A Dreamer of Mars: Edgar Rice Burroughs and John C...
In 1911 Edgar Rice Burroughs, having failed at everything else, decided to write a novel.
amazon
Laurie's Wild West
Win Scott Eckert.com
A coup de theatre Following the death of Crassus at the hands of the Parthians in 53 B.C.E. at the battle of Carrhae: Messengers delivered the head and hand of Crassus to the palace of the king of Armenia where the Parthian king was a guest.
Not by the Direct Method.
Not by the Direct Method.: This is why you should read history.
"The Language of Stamps:" A Cautionary Tale for Steampunk Writers.
ALL PULP
NewPulp
THE PULP FACTORY
Pulp Fiction Reviews
MusingSES
The Adventures of Captain Hatteras: Verne Lays the Foundation for Fictional Pulp Adventures to Foreign Lands
by Duane Spurlock Awhile back, I posted about Jules Verne as the pre-pulp pioneer for pulp fiction. Let's look at this idea a bit more closely. , translated by William Butcher (Oxford: Oxford University Press, 2005). , who translated this volume and provided its introduction and notes, is on a quest to restore Verne's reputation in the United States as worthy of inclusion in the literary canon — not as a writer for children, but as a serious author for adults, deserving university recognition and academic study.
Books From The Crypt