Author Info & Advice
MusingSES
MusingSES
MusingSES
MusingSES
MusingSES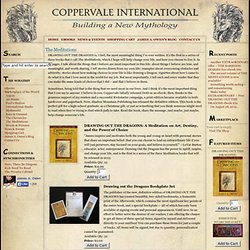 DRAWING OUT THE DRAGONS is, I feel, the most meaningful thing I've ever written. It's the first in a series of three books that I call The Meditations, which I hope will help change your life, and how you choose to live it. In its pages, I talk about the things that I believe are most important in this life; about things I believe are true, and meaningful, and worth sharing.
Coppervale International » The Meditations
Best Author-on-Author Insults in History
The Shatzkin Files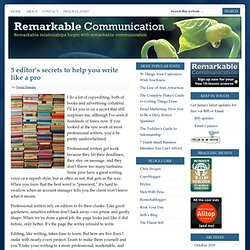 I do a lot of copyediting, both of books and advertising collateral. I'll let you in on a secret that still surprises me, although I've seen it hundreds of times now. If you looked at the raw work of most professional writers, you'd be pretty underwhelmed. Professional writers get work because they hit their deadlines, they stay on message, and they don't throw too many tantrums. Some pros have a great writing voice or a superb style, but as often as not, that gets in the way.
Whether you want to make writing your career or just want to know how to improve your writing so that you can pass your college courses, there is plenty of reading material out there to help you get inspired and hone your skills. Here's a collection of titles that will instruct you on just about every aspect of writing, from the basics of grammar to marketing your completed novel, with some incredibly helpful tips from well-known writers themselves as well. Writing Basics These books address things like structure, plot, descriptions and other basic elements of any story.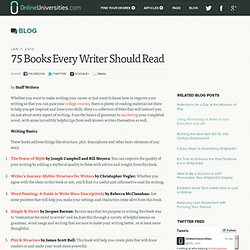 Writers have never had more ways of receiving feedback on their writing. Writing groups have proliferated online and some sites have thriving communities dedicated to helping their members improve and achieve their writing goals. Online writing workshops offer the convenience of getting crits on your work without having to leave the comfort of your home. At the same time, "real world" writing workshops continue to proliterate and do well.
Free and Low Cost Ways to Market and Promote Your Book - theWritersSite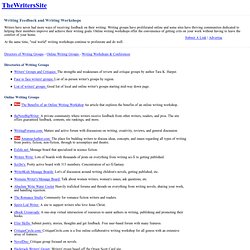 "You have a responsibility to listen to the dissent in yourself."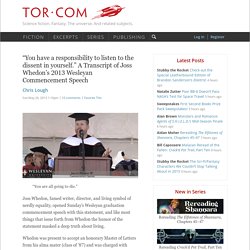 "You have a responsibility to listen to the dissent in yourself." A Transcript of Joss Whedon's 2013 Wesleyan Commencement Speech