Web tech
In software development and product management , a user story is one or more sentences in the everyday or business language of the end user or user of a system that captures what a user does or needs to do as part of his or her job function. User stories are used with agile software development methodologies as the basis for defining the functions a business system must provide, and to facilitate requirements management.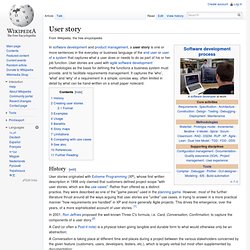 先前我们网站曾撰文《 Facebook对Google的威胁在哪?看看两大巨头的"广告生成工具"你就明白了 》,其中披露了 Facebook 强大的广告生成工具。现在,Facebook 广告 API 又推重磅:广告商通过这个新型 API,可以让广告专门显示给那些在点击广告之后最有可能开展一系列后续活动的用户,比如将一个品牌内容分享到其他新闻流中,在应用内购买虚拟商品,或者将 Facebook 上面提供的买家优惠在实体商店兑现等等。先前,Facebook 的广告 API 和自助工具只允许广告商根据广告点击,用户喜欢的页面,用户是否安装某款应用,用户是否签到等几个指标进行广告优化。现在,广告商的参考指标被进一步扩展,包括: 用户讨论的内容(是否有用户在讨论广告相关的内容)
Facebook广告API又推重磅,广告优化的参考指标被大大扩展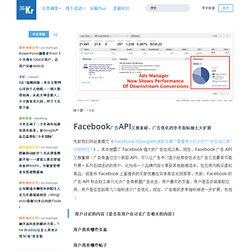 developerWorks 中国 : 掌握 Ajax 系列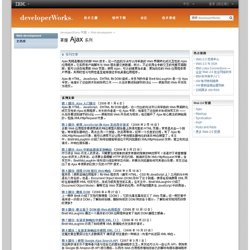 第 1 部分: Ajax 入门简介 (2006 年 1 月 4 日) Ajax 由 HTML、JavaScript、DHTML 和 DOM 组成,这一杰出的方法可以将笨拙的 Web 界面转化成交互性的 Ajax 应用程序。本文的作者是一位 Ajax 专家,他演示了这些技术如何协同工作 —— 从总体概述到细节的讨论 —— 使高效的 Web 开发成为现实。
Wordpress 图片类主题瀑布流实现方案 | 微生活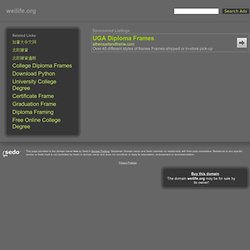 最近看到很多瀑布流布局的图片网站,点点人人小站也有很多这样的博客。不过相对来说我还是喜欢方方正正整整齐齐的设计的,但是 这样的错落感也可以有更加活泼的感觉。 网上用的比较多的是通过JS,原本网页布局是下一行与前一行最下面的那一块div进行对齐,而瀑布流这是与完全与上一行对齐,消除原有的大片空白。
KISSY - Keep It Simple & Stupid, Short & Sweet, Slim & Sexy...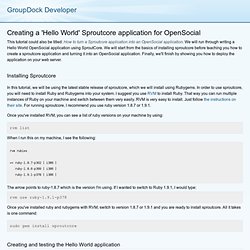 This tutorial could also be titled: How to turn a Sproutcore application into an OpenSocial application . We will run through writing a Hello World OpenSocial application using SproutCore. We will start from the basics of installing sproutcore before teaching you how to create a sproutcore application and turning it into an OpenSocial application.
Developer - Creating a 'Hello World' Sproutcore application for OpenSocial
多说 | 社会化评论系统 - WordPress插件
Comet:基于 HTTP 长连接的"服务器推"技术
"服务器推"技术的应用 传统模式的 Web 系统以客户端发出请求、服务器端响应的方式工作。这种方式并不能满足很多现实应用的需求,譬如: