Social Media Monitoring Tools
Unionmetrics.com. SocialFlow. Mentionmapp. Twitter Stats by Twitter Counter. (39) Challenger Network Graph. SocialBro - Explore your Twitter community. Crowdbooster: Social Media Marketing Analytics and Optimization. 48 Free Social Media Monitoring Tools. Go to the updated version of this post:54 Free Social Media Monitoring Tools [Update 2012] If you want to know what's happening in the social web you need monitoring tools.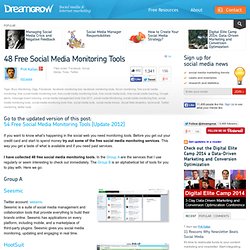 Before you get out your credit card and start to spend money try out some of the free social media monitoring services. This way you get a taste of what is available and if you need paid services. I have collected 48 free social media monitoring tools. In the Group A are the services that I use regularly or seem interesting to check out immediately. Internet Marketing Tools for SEO and Social Media | Raven. Magnity Interactive Relationship Marketing.
Social Media Monitoring and Engagement - Beevolve. Engagor | Making Sense of Social Media. Social Media Monitoring Tools for Business by Sysomos. Social Media Marketing, Social Media Optimization, Social Media Product & Technology Company | InRev Systems. PitchEngine - Get the Word Out™ - Social Media PR Release Builder. Competitive Research. Welcome to the last session of SES NY.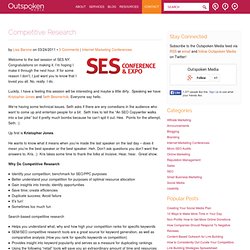 Congratulations on making it. I'm hoping I make it through the next hour. If for some reason I don't, I just want you to know that I loved you all. SEO Platform for the Enterprise - Conductor. Home | Quantcast. Compete | Compete.
Heardable online reputation management and social media monitoring - hsn.com. Overtone - Beyond Social Media Monitoring | Voice of Customer and Social CRM. Scalable to growth.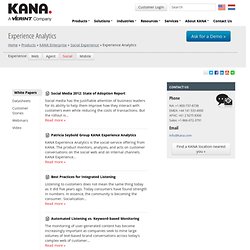 Adaptable to change. Leveraging SOA and your existing technology The KANA Enterprise platform leverages your existing technology investments by integrating with your enterprise data, applications and messaging systems. The platform is built on service-oriented architecture standards and designed for effective customer experience management. Worldwide | The Nielsen Company. Social Media Monitoring and Analysis with SM2 from Techrigy (Alterian SM2) Do you know the process your customers take to buy and connect with you?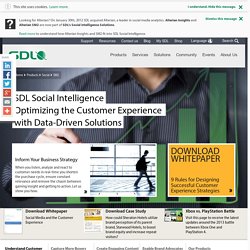 Their journey is often filled with many steps, stops and starts. What you do to help them along the way makes all the difference in gaining a competitive foothold. Social Media Tool for Social Media Marketing Agencies - eCairn Conversation. Converseon | The leading full service social media consultancy. Social Media Monitoring Solutions for the Enterprise | Visible. Technologies-Free Feeds-RSS Feeds. BlogPulse. RSS. MonitorThis. T|w|i|t|t|e|r|m|e|t|e|r. BackTweets. Monitter : real time, live twitter monitor | free live twitter e. Tweetvolume Compare Twitter Results! Now with timed results!
Real-Time Search — BackType. Twitter Alerts - TweetBeep.com. Google Blog Search. Sentiment and Text Analysis: Lexalytics. TRAACKR.
Social Media Monitoring and Engagement – Radian6. Scout Labs. Products & Solutions Online CommunitiesSocial Media ManagementSocial Media AnalyticsTechnology Social MarketingSocial Customer SupportCrowdsourcing Ideas Why Lithium Analyst Reports Blog Customer Success Products Resource Center.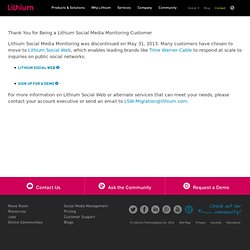 Real-Time Social Media Monitoring | Twitter Alerts | Brand and R. Welcome » PostRank. BuzzStream. Viralheat | Social media monitoring and analytics. Infegy - Enterprise Social Media Monitoring, Intelligence and An. Nielsen BuzzMetrics. Networked Insights — A Social Media Listening Platform for Marke. Biz360. Blog. Complex networks are everywhere and you can map many things today to reveal hidden patterns behind linked data.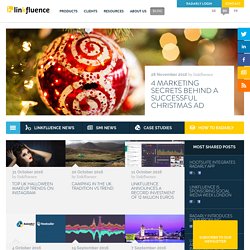 At linkfluence, most of the time we're mapping social media and how they connect to each others with hyperlinks. But sometimes, some datasets are so exciting that we allow us a short recreation outside of the webmaps. When we saw last week the work Jerry Neumann did about venture capitalists coinvestment and his need to have a better interface to give access to the results obtained, we immediately contacted him to propose him to work on his data and create an interactive map.
In the next days, we sent a few emails and made some adjustments on the map to adapt it to this new kind of data and we're really proud today to publish it on our website ! To access it you simply need to click on the picture.
---