Semantic Web
Ontomat Homepage — Annotation Portal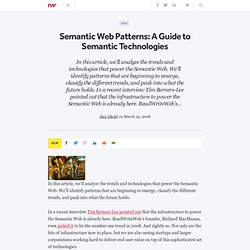 In this article, we'll analyze the trends and technologies that power the Semantic Web. We'll identify patterns that are beginning to emerge, classify the different trends, and peak into what the future holds. In a recent interview Tim Berners-Lee pointed out that the infrastructure to power the Semantic Web is already here. ReadWriteWeb's founder, Richard MacManus, even picked it to be the number one trend in 2008. And rightly so. Not only are the bits of infrastructure now in place, but we are also seeing startups and larger corporations working hard to deliver end user value on top of this sophisticated set of technologies.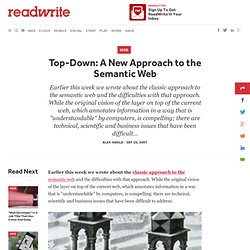 Earlier this week we wrote about the classic approach to the semantic web and the difficulties with that approach. While the original vision of the layer on top of the current web, which annotates information in a way that is "understandable" by computers, is compelling; there are technical, scientific and business issues that have been difficult to address. One of the technical difficulties that we outlined was the bottom-up nature of the classic semantic web approach. Specifically, each web site needs to annotate information in RDF, OWL, etc. in order for computers to be able to "understand" it. As things stand today, there is little reason for web site owners to do that.
Semantic Web
W3C's Semantic Web logo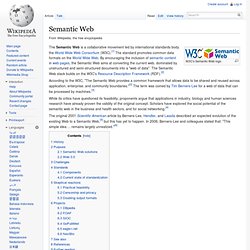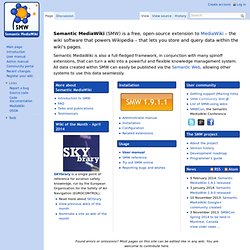 Semantic MediaWiki (SMW) is a free, open-source extension to MediaWiki – the wiki software that powers Wikipedia – that lets you store and query data within the wiki's pages. Semantic MediaWiki is also a full-fledged framework, in conjunction with many spinoff extensions, that can turn a wiki into a powerful and flexible collaborative database.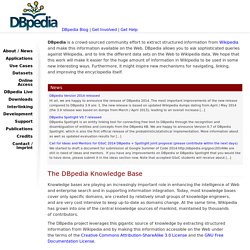 DBpedia is a crowd-sourced community effort to extract structured information from
Social Semantic Web: Where Web 2.0 Meets Web 3.0/program - Seman
Ontology Tools Survey, Revisited
<a href="http://ad.doubleclick.net/adj/ttm.xml/art;tn=3;tw=300;th=55;to=h;tcs=0;tcp=0;ta=center;tva=bottom;tc=ffffff;tnm=3;te=1;sz=100x50;ord=123456789?"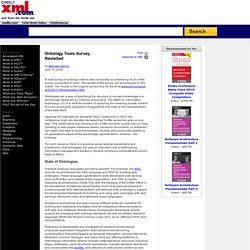 DiSo Project
SOBOLEO