Live Search/Bing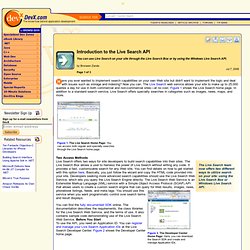 Introduction to the Live Search API
ave you ever wanted to implement search capabilities on your own Web site but didn't want to implement the logic and deal with issues such as storage and indexing?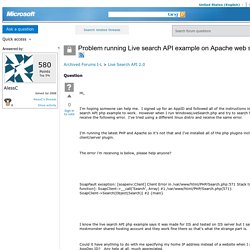 Problem running Live search API example on Apache web server + P
Hi, I'm hoping someone can help me. I signed up for an AppID and followed all of the instructions in order to get the Live search API php example to work. However when I run WindowsLiveSearch.php and try to search for something, I receive the following error. I've tried using a different linux distro and receive the same error. I'm running the latest PHP and Apache so it's not that and I've installed all of the php plugins including the SOAP client/server plugin.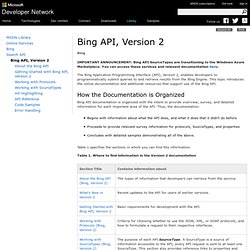 Bing API, Version 2
IMPORTANT ANNOUNCEMENT: Bing API SourceTypes are transitioning to the Windows Azure Marketplace. You can access these services and relevant documentation here . The Bing Application Programming Interface (API), Version 2, enables developers to programmatically submit queries to and retrieve results from the Bing Engine.
Hacking the Look and Feel of the Windows Live Search Box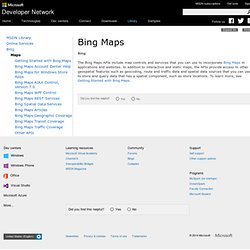 The Bing Maps documentation set provides information on the APIs that power Bing Maps, an online mapping service that enables users to search, discover, explore, plan, and share information about specific locations. By using traditional road maps, labeled aerial photo views, low-angle high-resolution aerial photos, and proximity searching capabilities, Bing Maps provides unique opportunities for developers to incorporate both location and local search features into their Web applications. Get Started Using Bing Maps
Bing Maps SDKs
Developer Center