Gimp
Part 1/4: Design and Code a site with Gimp, HTML and CSS | Help
Introduction: Design and code a website in The Gimp, HTML and CS
lol Firefox says this is an attack site? Watch ur back! by hacked Feb 17
Web Layouts Web Layouts using Gimp | Gimp Tutorials Wisdom
Web Graphics Web Graphics using Gimp | Gimp Tutorials Wisdom
Blog Theme Design tutorial | Gimp-tutorials.net - Gimp , tutoria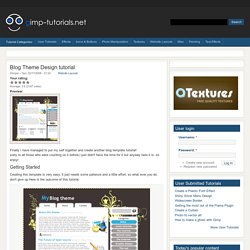 Preview: Finally I have managed to put my self together and create another blog template tutorial! sorry to all those who were counting on it before,i just didn't have the time for it but anyway here it is. so enjoy! Getting Started Creating this template is very easy, it just needs some patience and a little effort, so what ever you do. don't give up.Here is the outcome of this tutorial. Hopefully a member of the forum will help out in coding this template to a working wordpress theme, so keep an eye out for it :).
Preview: It's only been a few days since i started with gimp and i already feel pretty comfortable with it, so i decide to create a website tutorial using Gimp. for first time users its advisable to check out gimp.org for a quick overview of Gimp's tools and interference none the less its pretty straight forward and easy. Here is the out come of this tutorial Step 1 Create a new Image 780x1000
How To Create Your Own Website Design Using Gimp | Gimp-tutorial
If you do a Google search for Photoshop web design tutorial , you will get about 107,000,000 results. It seems to me that there are not enough Gimp tutorials. So, I decided to put together my own. Today, we will be creating a simple blog and portfolio design, using Gimp. By simple, I mean that you can create this using only the Rectangle Select Tool , Bucket Fill Tool , Blend Tool , Paths Tool , Text Tool , and a couple of others.
Creating an Awesome Website Design With Gimp - Fantastic Web Des