Entity Framework
PDC 2008 and Entity Framework
Understanding Attaching/Detaching Objects in LINQ to SQL and in
Entity Framework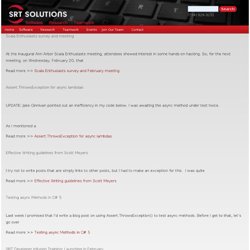 I've always found that developers are very interested in contributing their skills and their time to help others.
Entity Framework and LINQ to SQL
Why use the Entity Framework? Yeah, why exactly?
Danny Simmons wrote a marketing piece about the project he's been working on for so long: " Why use the Entity Framework?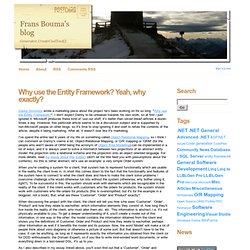 The ADO.NET Entity Framework supports data-centric applications and services, and provides a platform for programming against data that raises the level of abstraction from the logical relational level to the conceptual level.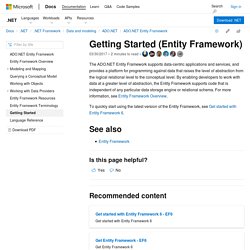 Getting Started (Entity Framework)
Entity Framework Documentation Samples for Visual Studio 2008 -
Quickstart (Entity Framework)
[This topic is pre-release documentation and is subject to change in future releases. Blank topics are included as placeholders.] This quickstart illustrates a series of tasks that support the topics in Getting Started (Entity Framework) .
Data Points: ADO.NET Entity Framework Overview
New information has been added to this article since publication. Refer to the Editor's Update below. Data Points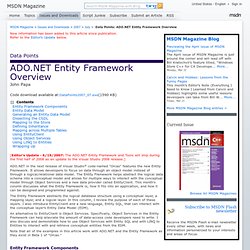 There are a number of places where you can read an introduction to the Entity Framework, listen to a podcast about it, or watch a screen cast or video of an interview.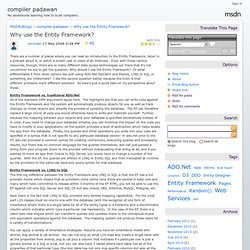 Why use the Entity Framework?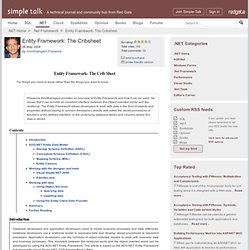 Entity Framework: The Cribsheet
For things you need to know rather than the things you want to know Prasanna Amirthalingam provides an overview of Entity Framework and how it can be used. He shows that it can provide an excellent interface between the Object-oriented model and the relational.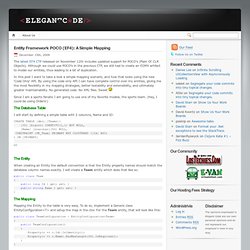 The latest EF4 CTP released on November 12th includes updated support for POCO's (Plain Ol' CLR Objects).
Entity Framework POCO (EF4): A Simple Mapping