Entity Framework
Entity Framework. Entity Framework and LINQ to SQL. I've always found that developers are very interested in contributing their skills and their time to help others.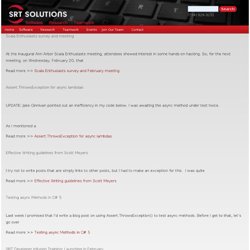 I'm excited to be part of a Read more >> Write Some Code, Change the World Interested in learning more about Scala? Please join us on Wednesday night at 6 pm. Why use the Entity Framework? Yeah, why exactly? Danny Simmons wrote a marketing piece about the project he's been working on for so long: "Why use the Entity Framework?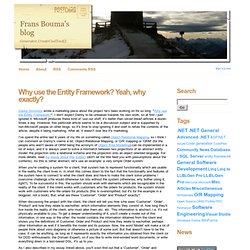 ". I don't expect Danny to be unbiased towards his own work, so at first I just ignored it: Microsoft produces these kind of 'use our stuff, it's better than sliced bread'-articles a dozen times a day. However, this particular article seems to be a discussion subject and is supported by non-Microsoft people on other blogs, so it's time to stop ignoring it and start to refute the contents of the article, despite it being marketing. After all, it doesn't look like it's marketing. Getting Started (Entity Framework) Entity Framework Documentation Samples for Visual Studio 2008 - Quickstart (Entity Framework) [This topic is pre-release documentation and is subject to change in future releases.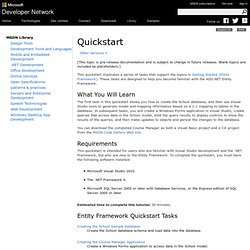 Blank topics are included as placeholders.] What You Will Learn. Data Points: ADO.NET Entity Framework Overview. New information has been added to this article since publication.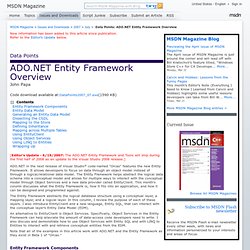 Refer to the Editor's Update below. Data Points. Why use the Entity Framework? There are a number of places where you can read an introduction to the Entity Framework, listen to a podcast about it, or watch a screen cast or video of an interview.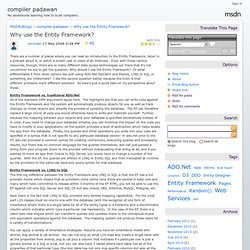 Even with these various resources, though, there are so many different data access technologies out there that it's not uncommon for me to get the question: Why should I use the Entity Framework? Or what differentiates it from other options like just using ADO.Net SqlClient and friends, LINQ to SQL or something like nHibernate? I like the second question better, because the truth is that different problems merit different solutions. Entity Framework: The Cribsheet. For things you need to know rather than the things you want to know Prasanna Amirthalingam provides an overview of Entity Framework and how it can be used.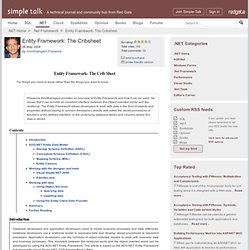 He shows that it can provide an excellent interface between the Object-oriented model and the relational. Entity Framework POCO (EF4): A Simple Mapping. The latest EF4 CTP released on November 12th includes updated support for POCO's (Plain Ol' CLR Objects).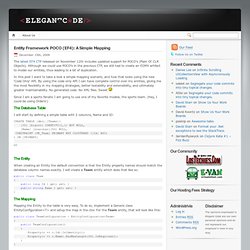 Although we could use POCO's in the previous CTP, we still had to create an EDMX artifact to model our entities, thus leading to a bit of duplication. In this post I want to take a look a simple mapping scenario, and how that looks using the new 'Code Only' API. By using the code only API I can have complete control over my entities, giving me the most flexibility in my mapping strategies, better testability and extensibility, and ultimately greater maintainability. No generated code.
---