Databases
When a team is developing a database application, it is a mistake to believe that deployment is a simple task. It isn't. It has to be planned, and scripted. Alexander Karmanov describes many of the problems you're likely to meet, and provides an example solution that aims to save the DBA from the nightmare complexity of an unplanned deployment.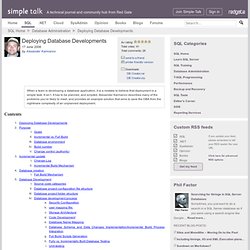 Deploying Database Developments
Multi-line SQL String Literals in C# Back in September there were a couple of unrelated blog posts that used literal multi-line SQL strings as examples to illustrate two different points. The first by David Cumps investigated the performance aspects of string concatenation vs. memory allocation. The second by Chinh Do presented a number of Visual Studio 2005 IDE tips and tricks, one of which was the use of regular expressions in the find and replace dialog.
Multi-line SQL String Literals in C#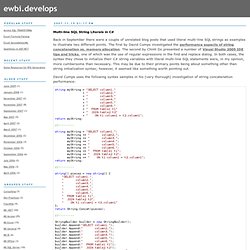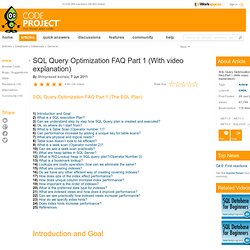 SQL Query Optimization FAQ Part 1 (The SQL Plan) Introduction and Goal In this article we will first try to understand what is a SQL plan, how is it created and then we will move towards understanding how to read the SQL plan. As we read the SQL plan we will try to understand different operators like table scan, index seek scan, clustered scan, RID lookup etc. We will also look in to the best practices associated with clustered and non-clustered indexes and how they function internally.
SQL Query Optimization FAQ Part 1 (The SQL Plan)