Parsons
An increasing amount of health care in the United States is administered though managed care plans. The phrase "managed care" evokes strong, often negative reactions from health care providers. Yet it is important to have an explicit understanding of managed care and particular types of potential ethical dilemmas that arise for health care providers in such systems.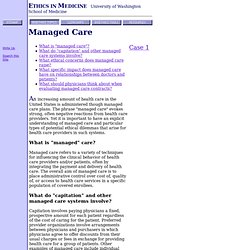 Managed Care: Ethical Topic in Medicine
blogs.chicagotribune.com/files/lewinmedicaid.pdf
NY Autistic Programs, Resources for Adults, Columbia County, NY
The 2009 Interagency Autism Coordinating Committee Strategic Plan for Autism Spectrum Disorder Research - January 26, 2009
Introduction Two decades ago, autism was a little known, uncommon disorder. Today, with prevalence estimates increasing at an alarming pace, autism is emerging as a national health emergency. Autism is now recognized as a group of syndromes denoted as autism spectrum disorder (ASD).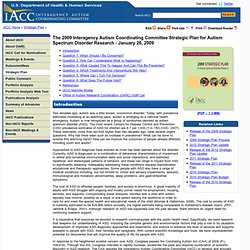 www.cahi.org/cahi_contents/resources/pdf/n152AutismTrend.pdf
www.autismvotes.org/atf/cf/%7B2A179B73-96E2-44C3-8816-1B1C0BE5334B%7D/CAHI - March 2009.pdf
Autism Legislation Database
New York - **Autism Votes **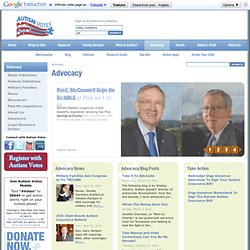 Ann Gibbons, known locally as Philip's mom, is Autism Speaks' Senior Regional Director for the Southeast. She writes us from... Friday, November 22, 2013
www.autismvotes.org/atf/cf/%7B2A179B73-96E2-44C3-8816-1B1C0BE5334B%7D/NY Law One Page Summary.pdf
www.autismvotes.org/atf/cf/%7B2A179B73-96E2-44C3-8816-1B1C0BE5334B%7D/New York Fact sheet on BD report FF.pdf
Center - University at Albany - SUNY -
www.autismvotes.org/atf/cf/%7B2A179B73-96E2-44C3-8816-1B1C0BE5334B%7D/Connecticut_FAQs.pdf
Autism Speaks |
https://www.emedny.org/ProviderManuals/HCBSWaiver/PDFS/HCBS_Policy_Section.pdf
Medicaid Home-and-Community-Based Waiver Programs in New York State - New York Health Access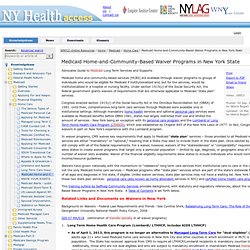 Advocates Guide to Medicaid Long Term Services and Supports Medicaid home and community-based services [HCBS] are available through waiver programs to groups of individuals who would be eligible for Medicaid if institutionalized and, but for the services, would be institutionalized in a hospital or nursing facility. Under section 1915(c) of the Social Security Act, the federal government grants waivers of requirements that are otherwise applicable to Medicaid "state plan" services. Congress enacted section 1915(c) of the Social Security Act in the Omnibus Reconciliation Act (OBRA) of 1981. Until then, comprehensive long-term care services through Medicaid were available only in institutional settings.
Features -Birth Defects Findings - NCBDDD
Researchers from the Centers for Disease Control and Prevention (CDC), in collaboration with researchers from the Health Resources and Services Administration (HRSA), have published a new study in Pediatrics: "Trends in the Prevalence of Developmental Disabilities in U.S. Children, 1997–2008." This study determined the prevalence of developmental disabilities in U.S. children and in selected populations for a 12-year period. You can read the abstract here .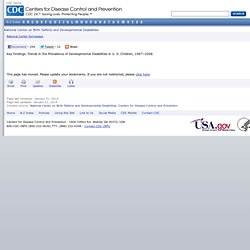 Home « Adirondack Region Medical Home Pilot
careers.pdf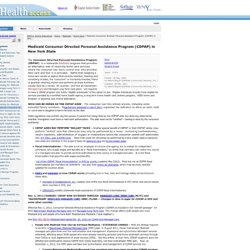 Another special benefit of CDPAP is that CDPAP aides may perform "skilled" care that otherwise may only be performed by a nurse - suctioning tracheostomies, insulin injections, administration of oxygen or medications where the consumer cannot self-administer. All counties are required to have a CDPAP program and notify "eligible individuals" of the option to join. Eligible individuals include those eligible for services provided by a certified home health agency, a long term home health care (waiver) program, AIDS home care program, or personal care (home attendant). Here is a list of the CDPAP programs in NYS by county (updated May 2012). You do NOT apply directly with these organizations for these services, though. Application process is through the local County's Department of Social Services - generally the same office that processes Medicaid personal care applications (in NYC, through the CASA offices ).
Medicaid Consumer Directed Personal Assistance Program (CDPAP) in New York State - New York Health Access
More young U.S. adults live with parents: study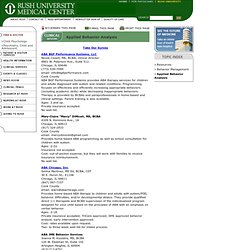 Applied Behavior Analysis | Rush Autism Resource Center
Take Our Survey ABA BGF Performance Systems, LLCNicole Cissell, MA, BCBA, clinical director 4801 W. Peterson Ave., Suite 512. Chicago, IL 60646 (773) 539-7099 email: info@bgfperformance.com Cook County ABA BGF Performance Systems provides ABA therapy services for children and adults diagnosed with autism and related conditions. Programming focuses on effectively and efficiently increasing appropriate behaviors (including academic skills) while decreasing inappropriate behaviors. Therapy is provided by BCBAs and paraprofessionals in home-based and clinical settings.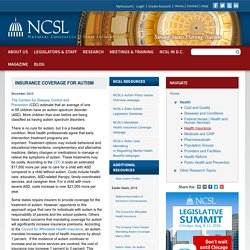 Autism and Insurance Coverage State Laws
August 2012
Autism Policy Issues Overview
January 2012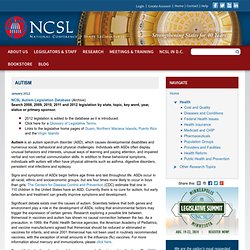 Autism Individual Market