Distributed Energy
Get flash to fully experience Pearltrees
Poultry Power USA, a wholly owned subsidiary of Green Frontiers Energy, announced an investment of $125m in the construction and development of biogas power project to be located in Biscoe, Montgomery County, southeastern North Carolina, US.
Increasingly, the energy we consume to heat and power our communities, will be produced locally. Unfortunately, many of the strategies we use to produce energy are vulnerable due to specialization.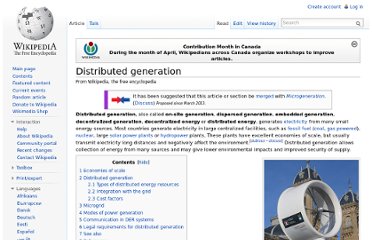 Distributed generation , also called on-site generation , dispersed generation , embedded generation , decentralized generation , decentralized energy or distributed energy , generates electricity from many small energy sources.