Horology
by Kevin Kelly There is a Clock ringing deep inside a mountain. It is a huge Clock, hundreds of feet tall, designed to tick for 10,000 years. Every once in a while the bells of this buried Clock play a melody.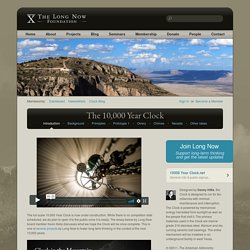 Introduction - 10,000 Year Clock
Federation of the Swiss Watch Industry FH - Homepage
L2.673.4.78.3 - The Longines Master Collection - Watchmaking Tradition - Watches - Longines Swiss Watchmakers since 1832
With its long and distinguished traditions, Longines has from the start built its worldwide reputation on timepieces notable as much for their intrinsic quality as for the style and timing of their launch. The Longines Master Collection is a perfect example of this skill. On the basis of the success of this collection since its launch in 2005 Longines has now added a number of new models in pink and yellow gold, with black dials and new sizes, that have already caused a sensation on the market. These new designs are reaching world markets precisely as consumers signal their clear preference for products that not only offer genuine value but unmistakable character as well.