Beer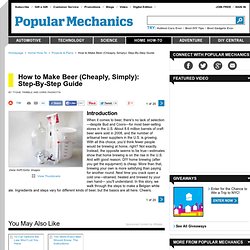 Making a mash is not always necessary--you can brew a perfectly good lager or ale with prepackaged malt extract. But for this recipe, we're going all out, with an all-grain beer-- we extract the sugars from the grain ourselves. The recipe we're following is for a beer in the Belgian white or "wit" sytle. It's called "Wit Ginger, Not Mary Ann," and was published by the esteemed beer-brewing magazine, Zymurgy. Ingredients: 11 pounds of grain 11 quarts of water
By HomeBrewing.com Staff Check out our pictographic of the all-grain homebrew process. There are many different styles and methods for all-grain brewing, but this is one of the most common for the hobby. All-Grain home brewing is a bit more complex than brewing with extracts and you will need more equipment than what you use for extract brewing.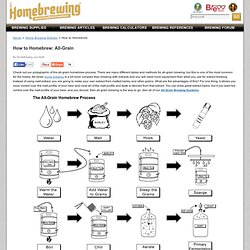 Home Brewing & Beer Brewing Supplies - HomeBrewing.com
Home Brewing KitsHome brewing kits for pro homebrewers and home brewing beginners. Brewing Systems Brewing systems including gravity, tippy and flat frame brewing systems. HomeBrew Kettles Get a homebrew kettle designed for maximum home brewing control.