Social Web
Running your own identity server allows you to act as an OpenID Provider. You could run one just for yourself, for a community of users or, if you wish, for the general public . You do not need to register or obtain permission from anyone; you just need to run an OpenID identity server on your site. This requires the ability to install and run some software on your web server. Some existing OpenID identity server implementations are listed below. PHP Community-ID - Community-ID is an OpenID implementation in PHP which is OpenID 2.0 compliant.
Wiki / Run your own identity server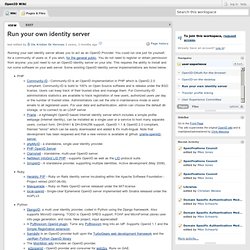 I'd like to take the maintenance of ostatus.org content out of my own incapable hands, and make it more accessible through this community group. ostatus.org itself consists of a Drupal-based blog with <10 posts plus a copy of the spec. I believe it can be pretty easily transferred to the community group sites here, which run on WordPress. wiki.ostatus.org is a MediaWiki wiki.