Informatique/CS
Jasper | Control everything with your voice.
Electronics
Web. Cr-48.wikispaces.com/file/view/cr48_hamster_box_image.jpg. Programmation. System Administration. Keynav - retire your mouse. :: semicomplete.com - Jordan Sissel. What is keynav?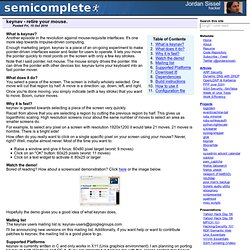 Another episode in the revolution against mouse-requisite interfaces. It's one more step towards impulse-driven computing. Enough marketing jargon. keynav is a piece of an on-going experiment to make pointer-driven interfaces easier and faster for users to operate. It lets you move the pointer quickly to most points on the screen with only a few key strokes. Note that I said pointer, not mouse.
PiratePad. Build a digital book with EPUB - Vimperator. Before you start This tutorial guides you through creating eBooks in the EPUB format.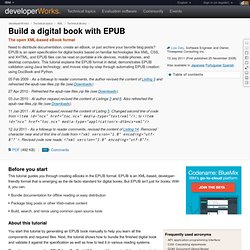 EPUB is an XML-based, developer-friendly format that is emerging as the de facto standard for digital books. But EPUB isn't just for books: With it, you can: Bundle documentation for offline reading or easy distributionPackage blog posts or other Web-native contentBuild, search, and remix using common open source tools About this tutorial. Ubuntu Laptops. Enjoy the finest laptop experience.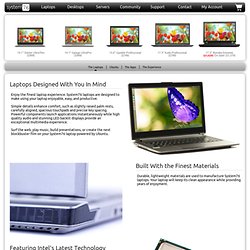 System76 laptops are designed to make using your laptop enjoyable, easy, and productive. Simple details enhance comfort, such as slightly raised palm rests, carefully aligned, spacious touchpads and precise key spacing. Powerful components launch applications instantaneously while high quality audio and stunning LED backlit displays provide an exceptional multimedia experience. Surf the web, play music, build presentations, or create the next blockbuster film on your System76 laptop powered by Ubuntu.
---