What-how-why-to
Peter Thiel's CS183: Startup - Class 12 Notes Essay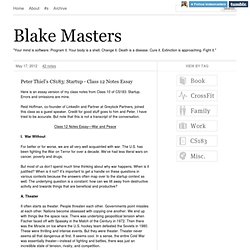 Class 12 Notes Essay
E145-1-2a copy.mov
Dividing equity between founders
A friend asked me recently if I knew of any good guidelines for dividing up equity between founders, and specifically what to do in the case when a co-founder provides seed capital. The truth is I don't know of any great guidelines – this is seems to me a very case-by-case decison. Obviously the main consideration should be the relative importance of each founder to the future prospects of the venture.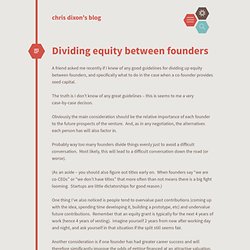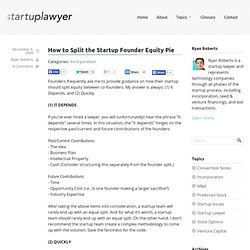 Startup Founder Equity Split
Founders frequently ask me to provide guidance on how their startup should split equity between co-founders. My answer is always: (1) It Depends, and (2) Quickly. If you've ever hired a lawyer, you will (unfortunately) hear the phrase "it depends" several times.
How to Divide Equity to Startup Founders, Advisors, and Employees
377 Flares Twitter 108 Facebook 44 LinkedIn 42 in Share 42 Google+ 18 Pin It Share 4 4 Reddit 1 StumbleUpon 156 377 Flares ×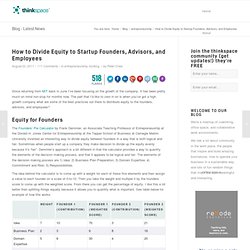 Experience running a startup business.
Split Equity Between Founders Equally
http://nymag.com/news/features/silicon-valley-2011-9/index3.html