Mba knowledge links
Welcome to YouTube! The location filter shows you popular videos from the selected country or region on lists like Most Viewed and in search results.To change your location filter, please use the links in the footer at the bottom of the page. Click "OK" to accept this setting, or click "Cancel" to set your location filter to "Worldwide".
IMD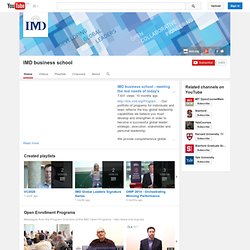 Knowledge Bocconi
Pages Sunday, February 5, 2012 Business and Management - Online Books
Business and Management - Online Books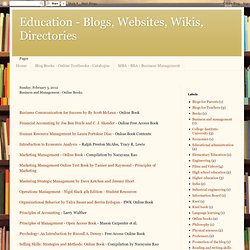 IESE Insight - Relevant Business Knowledge
Haas Insights | Videos from the Haas School of Business – University of California, Berkeley
CalBusiness - The Magazine of the Haas School of Business at the University of California, Berkeley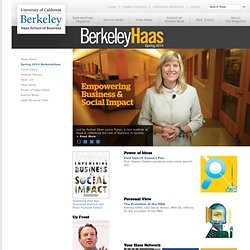 Douglas E. Goldman, MD, BA '74, has been honored as the school's Business Leader of the Year in recognition of his generous contributions to Haas, Berkeley, and the Bay Area. Goldman carries on a long tradition of giving passed down by his ancestors, including Levi Strauss and Walter A. Haas Sr. > Read More Alumnae Kristin Groos Richmond and Kirsten Saenz Tobey, both MBA 06, have been recognized with the Haas School's Leading Through Innovation Award for their bold efforts to serve healthy meals to schoolchildren across the county through their company, Revolution Foods. > Read More
UCLA Magazine Online
Harvard Business School has a long tradition of practice-oriented research and teaching that has a profound and far-reaching impact on business and management education world wide. HBS Working Knowledge is a forum for innovation in business practice, offering readers a first look at cutting-edge thinking from HBS faculty, and the opportunity to both influence and use these concepts before they enter mainstream management practice. Every day, HBSWK features new work from among the more than 200 HBS faculty at the forefront of their diverse fields of expertise, providing a valuable source of inspiration for executives, entrepreneurs, and managers seeking to keep their organizations at the leading edge of innovation and change. Staff Sean Silverthorne, Editor-in-Chief Carmen Nobel, Senior Editor
About Us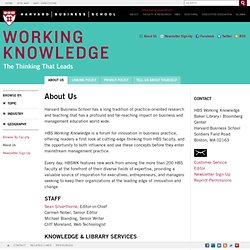 Business School - Business Strategy Review
Business School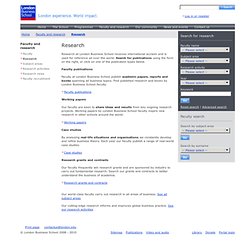 Research at London Business School receives international acclaim and is used for reference all over the world. Search for publications using the form on the right, or click on one of the publication types below. Faculty publications
As usual, in this issue of Stanford Business we explore our theme from a variety of angles. For instance, we look at how to come up with breakthrough ideas, build more productive relationships with higher-ups in an organization, and explain an innovation that draws ideas from across categories. We examine how to overcome the limitations others impose on us — as well as those we put upon ourselves. And we discuss the theme from the perspectives of geography, ethnicity, and political identity. Magazines themselves have constraints.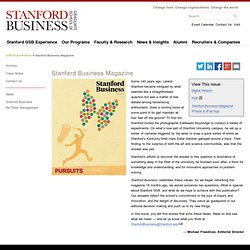 Business Magazine Autumn 2011
Kellogg Insight | Kellogg School of Management
Information Technologies Making Decisions Today for Opportunities Tomorrow Liang, Simon; Singh, Surinderdeep; Viñals, José; Paris, Simon; Gent, Donna; Dreyer, Keith; Ibukun, Awosika In this special collection of podcasts recorded during the IESE Global Alumni Reunion held in Barcelona, Spain, in November 2013, several leading experts in the areas of finance, entrepreneurship, health care, strategy and operations comment on current macroeconomic challenges and how they will shape business in the future. Read article Economics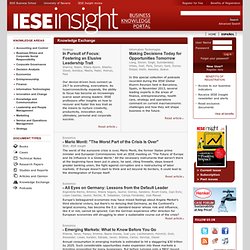 Insight Knowledge Exchange