Mba knowledge links
Welcome to YouTube! The location filter shows you popular videos from the selected country or region on lists like Most Viewed and in search results.To change your location filter, please use the links in the footer at the bottom of the page. Click "OK" to accept this setting, or click "Cancel" to set your location filter to "Worldwide".
IMD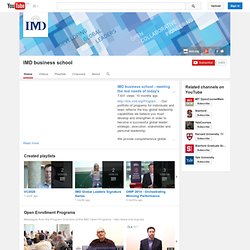 AccountingThe Dark Side of the Audit Firm Rotation Rule The Italian case shows that rotation increases costs without improving quality, according to a study by Cameran, Marra, Pettinicchio and Francis. And its implementation in larger markets such as the US could be troublesome
Knowledge Bocconi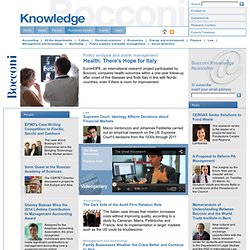 Pages Sunday, February 5, 2012 Business and Management - Online Books
Business and Management - Online Books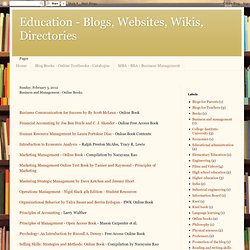 Innovation and Change Which Are the World's "Smartest" Cities? Tokyo is the most developed city in the world, but is it the best city to live in? From a global point of view it may be, but not if what we value most is social cohesion. The IESE Cities in Motion Index enables an objective comparison of cities along 10 dimensions, measuring their sustainability and the quality of life of their inhabitants. As the IESE Cities in Motion report shows, there is no single model of success.
IESE Insight - Relevant Business Knowledge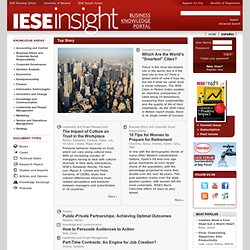 Haas Insights | Videos from the Haas School of Business – University of California, Berkeley
CalBusiness - The Magazine of the Haas School of Business at the University of California, Berkeley
UCLA Magazine Online
Harvard Business School has a long tradition of practice-oriented research and teaching that has a profound and far-reaching impact on business and management education world wide. HBS Working Knowledge is a forum for innovation in business practice, offering readers a first look at cutting-edge thinking from HBS faculty, and the opportunity to both influence and use these concepts before they enter mainstream management practice. Every day, HBSWK features new work from among the more than 200 HBS faculty at the forefront of their diverse fields of expertise, providing a valuable source of inspiration for executives, entrepreneurs, and managers seeking to keep their organizations at the leading edge of innovation and change. Staff Sean Silverthorne, Editor-in-Chief Carmen Nobel, Senior Editor Michael Blanding, Senior Writer Cliff Moreland, Web Technologist
About Us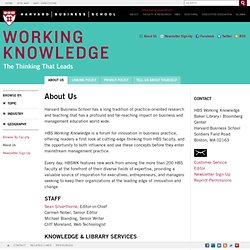 Business School - Business Strategy Review
Business School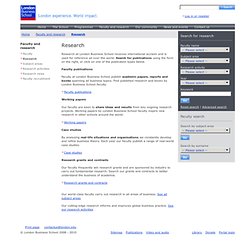 Research at London Business School receives international acclaim and is used for reference all over the world. Search for publications using the form on the right, or click on one of the publication types below. Faculty publications
Some 140 years ago, Leland Stanford became intrigued by what seemed like a straightforward question but was a matter of real debate among horseracing enthusiasts: Does a running horse at some point in its gait maintain all four feet off the ground? To find out, Stanford invited the photographer Eadweard Muybridge to conduct a series of experiments. On what's now part of Stanford University campus, he set up a series of cameras triggered by trip wires to snap a quick series of shots as Stanford's Kentucky-bred mare Sallie Gardner galloped around a track. Their finding, to the surprise of both the art and science communities, was that the answer was yes. Stanford's efforts to discover the answer to this question is illustrative of something deep in the DNA of the university he founded soon after: a thirst for knowledge and understanding, and for innovative approaches to problem solving.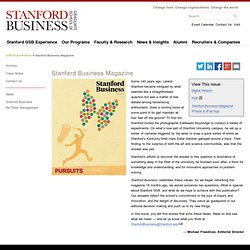 Business Magazine Autumn 2011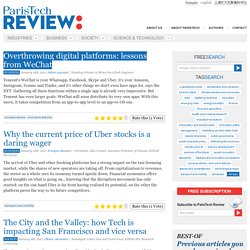 In countries that have based their wealth on production, every discovery and innovation that potentially lower production costs attract very strong attention. Since 2007, the discovery and exploitation of shale gas and oil have put the USA energy industry back on the track to competitive procurement faced with competing nations who have been low costs champions for decades. The new question on the table is to ascertain whether 3D printing can have a comparable impact. technology and business
Kellogg Insight | Kellogg School of Management
Economics Mario Monti: "The Worst Part of the Crisis Is Over" IESE; IESE Insight The worst of the eurozone crisis is over, Mario Monti, the former Italian prime minister and European Commissioner, told an IESE meeting on "The Future of Europe and Its Influence in a Global World." All the necessary instruments that weren't there at the beginning have been put in place, he said, citing firewalls, steps toward greater banking union, the fight against corruption and a restructuring of labor markets. If Europe doesn't start to think and act beyond its borders, it could lead to the disintegration of Europe itself.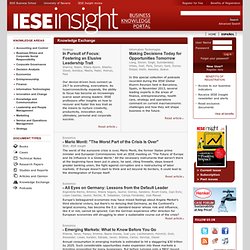 Insight Knowledge Exchange