House
Products — Robby Cuthbert Design. Cherry and concrete dining table. Any idea how I could make this bed? : DIY. HÖNEFOSS Mirror. XguUUA8.jpg (1290×816) 21 Creative DIY Lighting Ideas. There are so many different types of lighting and they are all unique.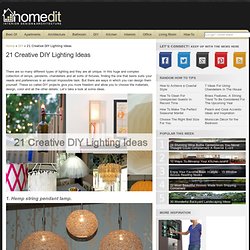 In this huge and complex collection of lamps, pendants, chandeliers and all sorts of fixtures, finding the one that bests suits your needs and preferences is an almost impossible task. But there are ways in which you can design them yourself. Multi-Tasking Staircase : pics. 301376_280240445325648_129255280424166_1291256_1009486865_n_large.jpg (500×607) Glow-in-the-dark stars were cool, but my daughter needed something better: fiber optic star ceiling : pics. How to Make Your Own Chalkboard Paint With Stuff You Probably Already Have | DO IT: Projects, Plans and How-tos. Written by mike on February 9th, 2012 If you like DIY projects like this, make sure to follow me on Twitter.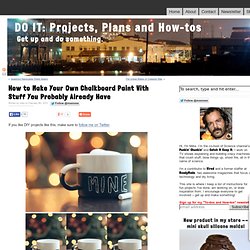 Chalkboard paint is a fun way to customize a space with the option of ever-changing designs that are only limited the color chalk you have. You can buy chalkboard paint at many places — but it's not the cheapest stuff around. Kuhl Design Build - Twin Cities ( Minneapolis and St. Paul Area ) Architectural Design & Remodeling. 8 Creative and Cool Home Storage Solutions | Live Simply article | Free online articles and how-to's for busy families. Every household runs into the challenge of keeping the place tidy and clutter-free.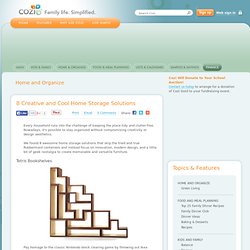 Nowadays, it's possible to stay organized without compromising creativity or design aesthetics. We found 8 awesome home storage solutions that skip the tried and true Rubbermaid containers and instead focus on innovation, modern design, and a little bit of geek nostalgia to create memorable and versatile furniture. Tetris Bookshelves Pay homage to the classic Nintendo block clearing game by throwing out Ikea bookshelves in favor of the more creative and visually striking Tetris shapes version.
You can create a custom design shape by assembling the pieces into various dimensions, making this bookshelf storage solution both unique and versatile. Ingenious furniture. : videos.
Living room
Outside. Home automation? : DIY. Bathroom. Kitchen. Bedroom.
---