SEO
19 Ways to Build Relationships With Blog Comments
Google recently unveiled a major change to its mysterious and powerful search engine algorithm. Along with this "Penguin update," many of the search engine optimization (SEO) techniques that websites once utilized no longer work. The search engine giant is a major source of discovery for apps and web-based writers, so we've collected some advice to make sure your online writing doesn't get punished by the Google Penguin update. The five tips follow below… Google explained the update: "this algorithm represents another improvement in our efforts to reduce webspam and promote high quality content.
5 Ways to Cope with Google's Penguin Update - AppNewser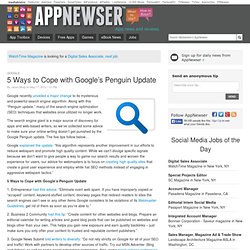 Publié le Mercredi 18 avril 2012 Ce n'est plus un secret pour personne, Facebook est le numéro 1 des réseaux sociaux et compte plus de 800 millions d'inscrits à travers le monde. On peut dire que son créateur, Mark Zuckerberg a senti le bon filon en fondant son site « The Facebook » en février 2004. Dans un premier temps, il a cherché à réinventer la communication du Web. Pari plutôt réussi puisque Facebook permet de retrouver de vieux amis ou de s'en faire des nouveaux, de partager des documents multimédias et de s'échanger des messages privés ou muraux. Néanmoins, si Facebook est considéré comme une plate- forme pour les particuliers, cette dernière peut s'avérer très bénéfique pour les entreprises.
Facebook Ads, un avenir prometteur ! - Universem - Web traffic optimisation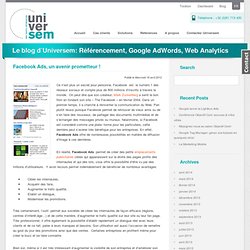 With Keyword Planner, we've combined the functionality of Keyword Tool and Traffic Estimator to make it easier to plan search campaigns. That's why Keyword Tool is no longer available. You can use Keyword Planner to find new keyword and ad group ideas, get performance estimates for them to find the bid and budget that are right for you, and then add them to your campaigns. Note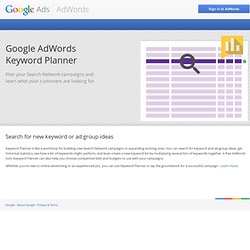 Gmail enables images by default and sends email marketing into frenzy Google likes surprising the world of email marketing.