Crafy Secrets
Find crochet stitch instructions.
Crochet Stitch Instructions -- Free Instructions for Different Crochet Stitches and Techniques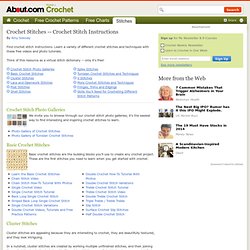 Pom Poms require a little bit of patience, but its quite satisfying when you finally get to cut them and produce your pom pom.
Make your own pom poms
Making and attaching hair
Are your crocheted creations having a bad hair day? Maybe looking a bit mangy?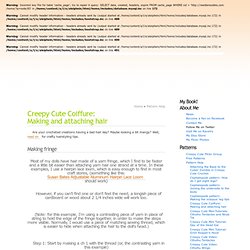 Rag Knitting Tutorial
Blocking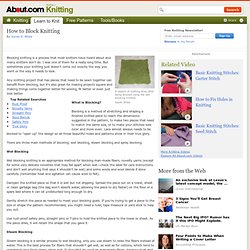 Blocking knitting is a process that most knitters have heard about and many knitters don't do.
Crochet Chart Symbols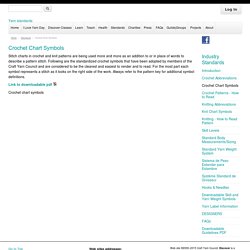 Stitch charts in crochet and knit patterns are being used more and more as an addition to or in place of words to describe a pattern stitch. Following are the standardized crochet symbols that have been adopted by members of the Craft Yarn Council and are considered to be the clearest and easiest to render and to read. For the most part each symbol represents a stitch as it looks on the right side of the work.
Weaving Ends
Every single knitting project involves finding something to do with yarn tails.
How to sew a zipper into a knitted item
I just finished another cardigan with a zipper. This time I made Jodi Green's Mariah ( here's in Ravelry , and my Ravelry project ). I'd like to be able to say that it turned out great, and without a hitch, but as most knitters know, that is not always the case.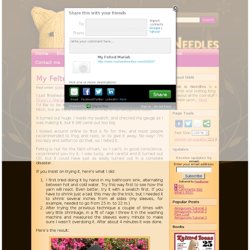 Bust Worksheet
How to avoid ladders on DPNs
click picture Ladders happen when the tension of knitted fabric consistently changes between the same two column of stitches. The usual place for ladders is where dpn's come together, although this same problem can arise between the front and back stitch sets in Magic loop knitting as well.