Stumble Upon
We Are Humans | Iffah Ishak. We're all walking around with these glossy eyes. " I'm just tired ," we say.
But you know what? It's bullshit . Yes, we are tired, but it's not from the lack of sleep. I just FELT like crafting! Water Balloon Luminaries : Candle & Soap Making Techniques - StumbleUpon. A fun and easy project with a beautiful payoff.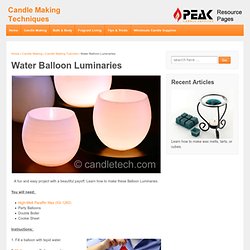 Learn how to make these Balloon Luminaries. You will need: High-Melt Paraffin Wax (IGI 1260)Party BalloonsDouble BoilerCookie Sheet Instructions: 1. Places To Visit, Trip Planner, Travel & Vacation Ideas | Wanderfly. Self-Education Resource List | Self Made Scholar - Free Self Education... The internet is an invaluable resource to self-educated learners.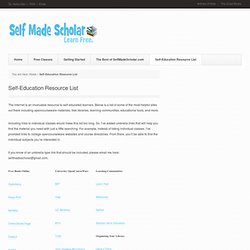 Below is a list of some of the most helpful sites out there including opencourseware materials, free libraries, learning communities, educational tools, and more. Including links to individual classes would make this list too long. So, I've added umbrella links that will help you find the material you need with just a little searching. For example, instead of listing individual classes, I've provided links to college opencourseware websites and course directories. From there, you'll be able to find the individual subjects you're interested in. How to Make Leaf Skeletons. I wanted to share with you a project from one of my readers who shares with us how to make leaf skeletons.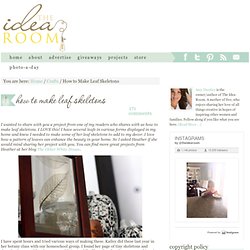 I LOVE this! I have several leafs in various forms displayed in my home and knew I needed to make some of her leaf skeletons to add to my decor. I love how a pattern of leaves can enhance the beauty in your home. So I asked Heather if she would mind sharing her project with you. You can find more great projects from Heather at her blog The Other White House. Glass Etching. Have you ever done any glass etching?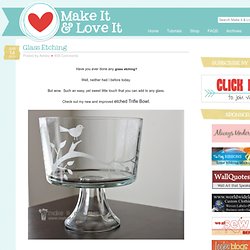 Well, neither had I before today. But wow. Such an easy, yet sweet little touch that you can add to any glass. Check out my new and improved etched Trifle Bowl. The perfect bowl for desserts of all kinds…..and even a great place for fresh fruit on the counter. Tutorials for Recycling T-Shirts. So way way back, in June, I wrote this Studio Organization post, about starting the process of organizing my studio by cleaning out the closet full of junk.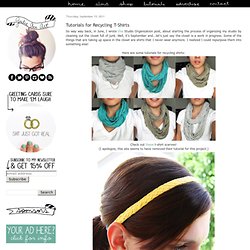 Well, it's September and...let's just say the closet is a work in progress. Some of the things that are taking up space in the closet are shirts that I never wear anymore. I realized I could repurpose them into something else!
---