Connectivism
Connectivism & Connective Knowledge. Week 9 is a conference week, focusing on Net Pedagogy.
This will be a great opportunity to reflect on how social networks and networked technology impact how we teach and learn. We've lined up five excellent speakers for the week: Martin Weller. Connectivism Outline. Learning Networks and Collective Knowledge. Learning Networks and Connective Knowledge Stephen Downes October 16, 2006 I have a lot of mixed feelings about this paper but it is an honest and reasonably thorough outline of my views.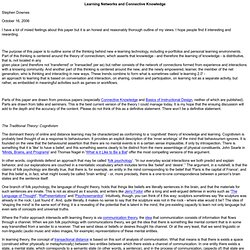 On distinctions between "change" and "becoming" Jean Baudrillard made some important points that reflect well on the discussion of technology and educational change (the rest of his conversation provides enough basis for about a decade of controversy and offense to many): We are changing our system of values, changing all our identities, our partners, our illusions, and so on.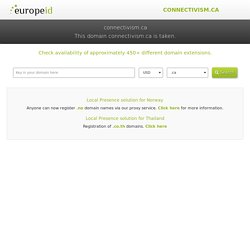 We are obliged to change, but changing is something other than becoming, they are different things. Ltc's Connectivism and Connective Knowledge. A Seismic Shift in Epistemology ~ Stephen's Web ~ by Stephen Downes. A Seismic Shift in Epistemology (EDUCAUSE Review) | EDUCAUSE CONNECT. © 2008 Chris Dede EDUCAUSE Review, vol. 43, no. 3 (May/June 2008): 80–81 Chris Dede Chris Dede is Timothy E.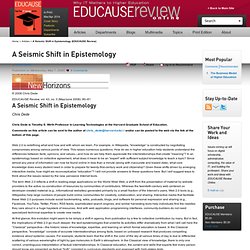 Wirth Professor in Learning Technologies at the Harvard Graduate School of Education. Comments on this article can be sent to the author at chris_dede@harvard.edu and/or can be posted to the web via the link at the bottom of this page.
---