Photography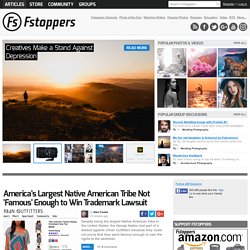 In 1991, Nikon Was One of NASA's First Electronic Still Cameras In 1991, NASA sent out a hacked Nikon F3 with a Kodak digital back out into space. The camera was called the Kodak Hawkeye II.
by John Reilly (neuroanatomist) Autofocus microadjustment (AFMA) is a procedure that allows a user to correct for small errors of front- or back-focusing. It is a feature that is present only on certain models of Canon dSLRs (currently, the 50D, 7D, 5D Mark II, 1D Mark III, 1D Mark IV, 1Ds Mark III, and 1D X). AFMA will have the greatest benefit for lenses with fast apertures (f/2.8 and wider), because the thin depth of field at wide apertures makes even small focus errors more evident. This tip comprises two main sections, a practical summary of the procedure for those who want to dive right in, followed by more technical discussion, including some DIY options for a testing setup. The Procedure
AF Microadjustment Tips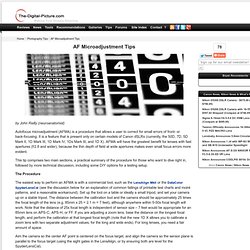 Photographic Blog - Help, Advice & Tutorials about Photography
We've Had some pretty weird weather in this part of Europe. Here in parts of the UK it's been damaging high winds, heavy rain and floods. Across the pond in parts of the USA; high… Read Post → It's time for more festive photos of christmas time!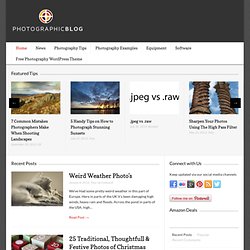 Belgiumdigital - Startpagina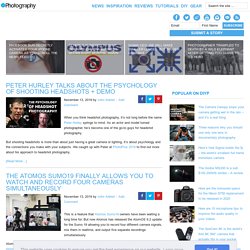 Czech photographer Hana Vojackova was drawn to images of mermaids but she noticed that the common concept of mermaids lacked connection to the real and present world. She began a multi-country journey where she "[looked] for local girls who felt a bit different or special. Influenced by the places, the cultures and the girls' real lives, she created narratives that she then staged for the tableau photographs"# So far Hana found mermaids in Sicily, Czech Republic, Germany, Portugal, England & Iceland. Click to continue ›