Law
Home | SEO USA Career Program. Careers | Hobbs | Straus. Hobbs Straus attorneys come from different backgrounds and experiences, but we are like-minded in our dedication to assist tribes in strengthening their governments and improving the lives of their members.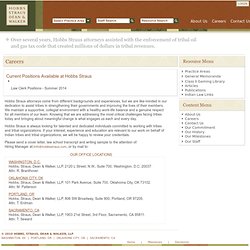 We maintain a supportive, collegial environment with a healthy work-life balance and a genuine respect for all members of our team. Knowing that we are addressing the most critical challenges facing tribes today and bringing about meaningful change is what engages us each and every day. Hobbs Straus is always looking for talented and dedicated individuals committed to working with tribes and tribal organizations. Welcome to Gonzaga University School of Law :: Gonzaga School of Law. Law School. University of Oregon School of Law :: Eugene, Oregon. Justice with Michael Sandel - Online Harvard Course Exploring Justice, Equality, Democracy, and Citizenship.
Stanford Law School. University of Colorado Law School. UNM School of Law. Welcome to Lewis & Clark Law School in Beautiful Portland, Oregon. James E. Rogers College of Law. Cornell Law School...Lawyers in the Best Sense.
---