Restaurants/Bars in London
Muang Thai Chalk Farm
Ms Cupcake
New Fujiyama
The Wapping Project
Browns Restaurants
Medieval Banquet London
St. JOHN Bar and Restaurant SMITHFIELD | St. John Restaurant
Kanaloa London | 18 Lime Office Court, Hill House, Shoe Lane, London, EC4A 3BQ
West End cocktail bar; London cabaret restaurant and venue: Circus
Icebar London | 31-33 Heddon Street, Mayfair, London, W1B 4BN
SOUK :: Home ::
Tinseltown American Diner - Burgers, Steaks, Hotdogs, Grills and Milkshakes
The Chicago Rib Shack | American Rib Shack Restaurant in London | Home
wahaca - mexican market eating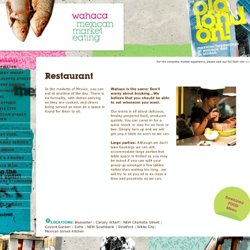 In the markets of Mexico, you can eat at anytime of the day. There is no formality, with dishes arriving as they are cooked, and diners being served as soon as a space is found for them to sit. Wahaca is the same: Don't worry about booking...We believe that you should be able to eat whenever you want.
India's answer to Heston Blumenthal is launching London's first butter and cream-free curry restaurant. Dr Kartar Lalvani is emulating the three Michelin-starred chef with his own version of molecular gastronomy. It is dramatically different from the dairy-based cooking of the average high street Indian restaurant - closer to home-cooking on the sub-continent. No one has done this before in the world, it's unique. What the customer says: Excellent!
indali lounge - THE ART OF HEALTHY INDIAN DINING
Benares Restaurant and Bar, Mayfair, London
maison bertaux
L'Art du Fromage Restaurant, London
Welcome to Les Trois Garcons Restaurant. 1 Club Row, London E1 6JX. Tel: 020 7613 1924
Shaka Zulu - Best Restaurant Camden, London bar
The Mongolian Barbeque
Sarastro Restaurant - Drury Lane London
Rodizio Rico: Brazilian restaurants in London
Bavarian Beerhouse London
Archipelago Restaurant - Unusual, Exotic Dining in London' s West End
Dans le Noir?
Garlic & Shots
Everything is literally garlic! The foods, the drinks and yes even the dessert! Need a good mouthwash for the next day. by stephencollins Jan 14
inamo restaurant, Soho, London - interactive oriental fusion restaurant and bar
Benihana Chelsea - Japanese Sushi & Hibachi Grill Restaurants - London
sketch restaurant London
Texture Michelin Starred restaurant - restaurant and champagne bar Mayfair, Scandinavian restaurant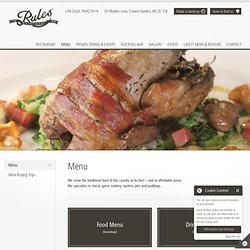 Rules Restaurant Food Menus
London's Oldest Restaurant House Aperitifs £12.95 The Rules... Tanqueray Ten, Dubonnet & Vintage Cremant £13.95 Kate Middleton's "Royal 29" Sipsmith, Pinky Vodka, Lillet, Crystallised Violets & Rose Petals £12.95 The Naughty Grouse...
North Road Restaurant