Restaurants/Bars in London
Muang Thai Chalk Farm
Ms Cupcake
New Fujiyama
The Wapping Project
Browns Restaurants
Medieval Banquet London
St. JOHN Bar and Restaurant SMITHFIELD | St. John Restaurant
Kanaloa London | 18 Lime Office Court, Hill House, Shoe Lane, London, EC4A 3BQ
West End cocktail bar; London cabaret restaurant and venue: Circus
SOUK :: Home ::
Tinseltown American Diner - Burgers, Steaks, Hotdogs, Grills and Milkshakes
The Chicago Rib Shack | American Rib Shack Restaurant in London | Home
What the press says: India's answer to Heston Blumenthal is launching London's first butter and cream-free curry restaurant. Dr Kartar Lalvani is emulating the three Michelin-starred chef with his own version of molecular gastronomy. It is dramatically different from the dairy-based cooking of the average high street Indian restaurant - closer to home-cooking on the sub-continent. No one has done this before in the world, it's unique. What the customer says:
indali lounge - THE ART OF HEALTHY INDIAN DINING
Benares Restaurant and Bar, Mayfair, London
maison bertaux
Welcome to Les Trois Garcons Restaurant. 1 Club Row, London E1 6JX. Tel: 020 7613 1924
Shaka Zulu - Best Restaurant Camden, London bar
The Mongolian Barbeque
Sarastro Restaurant - Drury Lane London
Bavarian Beerhouse London
Archipelago Restaurant - Unusual, Exotic Dining in London' s West End
Dans le Noir?
Garlic & Shots
Everything is literally garlic! The foods, the drinks and yes even the dessert! Need a good mouthwash for the next day. by stephencollins Jan 14
inamo restaurant, Soho, London - interactive oriental fusion restaurant and bar
sketch restaurant London
Texture Michelin Starred restaurant - restaurant and champagne bar Mayfair, Scandinavian restaurant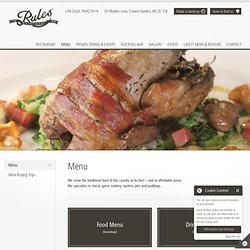 Rules Restaurant Food Menus
London's Oldest Restaurant House Aperitifs £13.95The Rules...Tanqueray Ten, Dubonnet & Vintage Cremant£14.95Kate Middleton'sSipsmith, Pinky Vodka, Lillet, Crystallised Violets & Rose Petals£15.95A Kiss For LillieKings Ginger, Cocchi & Joseph Perrier NV Champagne£11.95Black VelvetChampagne & Guinness£5.95London Pride & Draught GuinnessServed in silver tankards Oysters
North Road Restaurant