Restaurants/Bars in London
Muang Thai Chalk Farm
Ms Cupcake
Everybody deserves great cake. It is our job to create indulgent and decadent cakes for you regardless of what you can, and cannot eat. Ms. Cupcake is London's first entirely vegan bakery. We are based in Brixton, South West London and open seven days per week. Ms.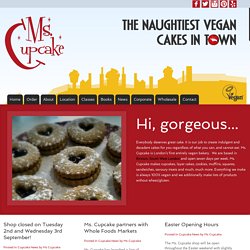 New Fujiyama
The Wapping Project
Since opening our first Browns in 1973, we've been providing delicious food and refreshing drinks, in beautiful surroundings with superb service. Our menus are carefully created using exceptional ingredients and our chefs are chosen for their talent, passion and flair. We believe that every occasion should be exceptional, whether you're joining us for a coffee, brunch with friends, dinner with the family or a big celebration. Join us for a bit of fizz and a lot of sparkle – you could try one of our famous cocktails, all shaken and stirred with equal measures of skill and enthusiasm.
Browns Restaurants
Discover the entertainment and food that awaits you at London's Medieval Banquet in St Katharine Docks, from sword fighting knights & dancing wenches, to contortionists and minstrels. More about the Banquet > Family Tickets Two Adults and Two Children £110 These tickets are available Sunday to Thursday. More Details... Having a celebration?
Medieval Banquet London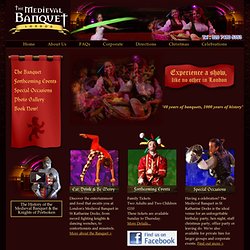 In 1993 Fergus was working with Jon Spiteri running their restaurant above the French House pub in Soho's Dean Street, Trevor and a friend had created the Fire Station at Waterloo. In early 1994 the success of the Fire Station had led to an offer that was not refused and Trevor had been offered the run down smokehouse building that was 26 St. John Street in Smithfield. Through the medium of the olive oil man Trevor, Jon and Fergus met. Lunch (and dinner……) was taken and St. John Smithfield opened in October 1994.
St. JOHN Bar and Restaurant SMITHFIELD | St. John Restaurant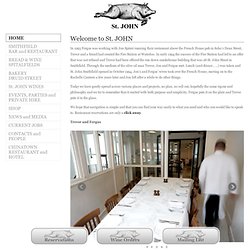 Kanaloa London | 18 Lime Office Court, Hill House, Shoe Lane, London, EC4A 3BQ
Ladies and gentlemen, boys and girls, crazy cats and acrobats – welcome to Circus. Is it a restaurant...? a bar...?
West End cocktail bar; London cabaret restaurant and venue: Circus
SOUK :: Home ::
Tinseltown American Diner - Burgers, Steaks, Hotdogs, Grills and Milkshakes
The Chicago Rib Shack | American Rib Shack Restaurant in London | Home
India's answer to Heston Blumenthal is launching London's first butter and cream-free curry restaurant. Dr Kartar Lalvani is emulating the three Michelin-starred chef with his own version of molecular gastronomy. It is dramatically different from the dairy-based cooking of the average high street Indian restaurant - closer to home-cooking on the sub-continent. No one has done this before in the world, it's unique. What the customer says: We had a fabulous time.
indali lounge - THE ART OF HEALTHY INDIAN DINING
Benares Restaurant and Bar, Mayfair, London
Welcome Situated in the heart of Mayfair, Benares is one of the finest michelin star restaurants London has to offer. Benares serves modern Indian cuisine with a contemporary British twist.
maison bertaux
Welcome to Les Trois Garcons Restaurant. 1 Club Row, London E1 6JX. Tel: 020 7613 1924
Shaka Zulu - Best Restaurant Camden, London bar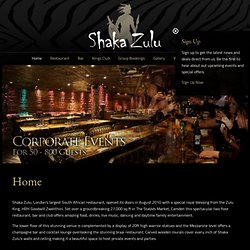 Shaka Zulu, London's largest South African restaurant, opened its doors in August 2010 with a special royal blessing from the Zulu King, HRH Goodwill Zwelithini. Set over a groundbreaking 27,000 sq ft in The Stables Market, Camden this spectacular two floor restaurant, bar and club offers amazing food, drinks, live music, dancing and daytime family entertainment. The lower floor of this stunning venue is complemented by a display of 20ft high warrior statues and the Mezzanine level offers a champagne bar and cocktail lounge overlooking the stunning braai restaurant. Carved wooden murals cover every inch of Shaka Zulu's walls and ceiling making it a beautiful space to host private events and parties.
The Mongolian Barbeque
Enter a world of drama, passion and excitement where exuberant colour, glittering display and joyous music meet exotic cuisine to create a truly unforgettable dining experience. Undoubtedly the place to see and be seen in Drury Lane, Sarastro offers a unique and opulent carnival of the senses that gladdens the heart, delights the eye and captivates the soul. So why not visit Sarastro soon and experience its magic for yourself?
Sarastro Restaurant - Drury Lane London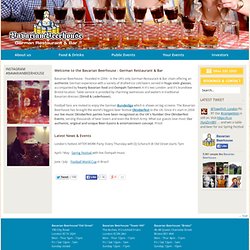 Welcome to the Bavarian Beerhouse - German Restaurant & Bar Bavarian Beerhouse - founded in 2004 - is the UK's only German Restaurant & Bar chain offering an authentic German experience with a variety of drafted ice cold beers served in huge stein glasses, accompanied by hearty Bavarian food and Oompah-Tainment in it's two London- and it's brandnew Bristol location. Table service is provided by charming waitresses and waiters in traditional Bavarian dresses (Dirndl & Lederhosen). Football fans are invited to enjoy the German Bundesliga which is shown on big screens. The Bavarian Beerhouse has brought the world's biggest beer festival Oktoberfest to the UK. Since it's start in 2004 our live music Oktoberfest parties have been recognised as the UK's Number One Oktoberfest Events, serving thousands of beer lovers and even the British Army.
Bavarian Beerhouse London
Archipelago Restaurant - Unusual, Exotic Dining in London' s West End
Dans le Noir?
You are about to live an unbelievable experience: eating and drinking in the pitch darkness. This idea might seem a little strange at first, but by suppressing the dominant sense of sight, you will enter a world in which one is uncertain of surroundings and experiences. With the help of our blind guides you are going to completely re-evaluate the notions of taste and smell through our gastronomic and pedagogical process.
Garlic & Shots
inamo is a pioneering Oriental fusion restaurant and bar where the control of the dining experience is placed firmly in your hands. Our mission is to provide delicious cuisine with charming and timely service in a warm and vibrant atmosphere. At the core of Inamo is our interactive ordering system. Diners place orders from an illustrated food and drinks menu projected on to their table surface. You'll set the mood, discover the local neighbourhood, and even order a taxi home. Our dedicated and friendly staff are always on hand to help with whatever you need.
inamo restaurant, Soho, London - interactive oriental fusion restaurant and bar
sketch restaurant London
Texture Michelin Starred restaurant - restaurant and champagne bar Mayfair, Scandinavian restaurant
Rules Restaurant Food Menus
This site uses cookies to store information on your computer. Some of these cookies are essential to make our site work and others help us to improve by giving us some insight into how the site is being used. These cookies are set when you submit a form, login or interact with the site by doing something that goes beyond clicking some simple links. We also use some non-essential cookies to anonymously track visitors or enhance your experience of this site. If you're not happy with this, we won't set these cookies but some nice features on the site may be unavailable. To control third party cookies, you can also adjust your browser settings.
North Road Restaurant