International Organizations
OECD Home › About the OECD Our mission The mission of the Organisation for Economic Co-operation and Development (OECD) is to promote policies that will improve the economic and social well-being of people around the world. The OECD provides a forum in which governments can work together to share experiences and seek solutions to common problems. We work with governments to understand what drives economic, social and environmental change.
Australia:Country Web Pages
44442412.pdf (application/pdf Object)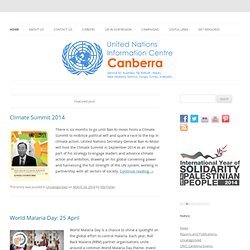 Featured post There is six months to go until Ban Ki-moon hosts a Climate Summit to mobilize political will and spark a race to the top in climate action. United Nations Secretary-General Ban Ki-Moon will host the Climate Summit in September 2014 as an integral part of his strategy to engage leaders and advance climate action and ambition, drawing on his global convening power and harnessing the full strength of the UN system, working in partnership with all sectors of society. Continue reading World Malaria Day is a chance to shine a spotlight on the global effort to control malaria.
UN - United Nations
The Millennium Development Goals are a UN initiative. The Millennium Development Goals (MDGs) are eight international development goals that were established following the Millennium Summit of the United Nations in 2000, following the adoption of the United Nations Millennium Declaration. All 189 United Nations member states at the time (there are 193 currently) and at least 23 international organizations committed to help achieve the Millennium Development Goals by 2015, the goals follow: Each goal has specific targets and dates for achieving those targets. To accelerate progress, the G8 Finance Ministers agreed in June 2005 to provide enough funds to the World Bank, the International Monetary Fund (IMF) and the African Development Bank (AfDB) to cancel $40 to $55 billion in debt owed by members of the Heavily Indebted Poor Countries (HIPC) to allow them to redirect resources to programs for improving health and education and for alleviating poverty.
Millennium Development Goals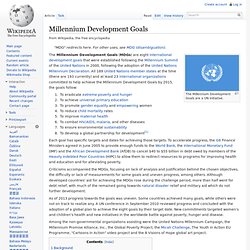 The eight Millennium Development Goals (MDGs) – which range from halving extreme poverty rates to halting the spread of HIV/AIDS and providing universal primary education, all by the target date of 2015 – form a blueprint agreed to by all the world's countries and all the world's leading development institutions. They have galvanized unprecedented efforts to meet the needs of the world's poorest. The UN is also working with governments, civil society and other partners to build on the momentum generated by the MDGs and carry on with an ambitious post-2015 development agenda. From this site, explore the efforts of the UN and its partners for building a better world. ... more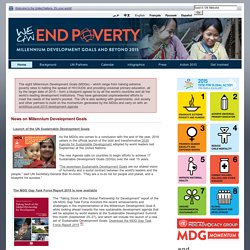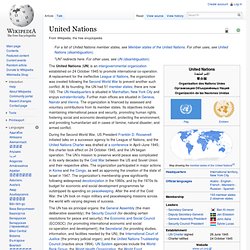 The United Nations (UN) is an intergovernmental organization established on 24 October 1945 to promote international co-operation. A replacement for the ineffective League of Nations, the organization was created following the Second World War to prevent another such conflict. At its founding, the UN had 51 member states; there are now 193. The UN Headquarters is situated in Manhattan, New York City and enjoys extraterritoriality.
Kofi Annan's final speech
Kofi Annan has delivered his final speech as United Nations Secretary General at the Truman Presidential Museum and Library in Independence, Missouri. The following is the text of the speech; subheadings inserted by the BBC. Thank you, Senator [Hagel] for that wonderful introduction. It is a great honour to be introduced by such a distinguished legislator.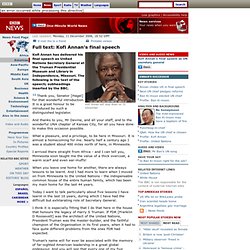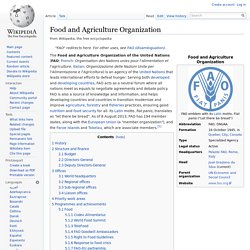 Food and Agriculture Organization
The Food and Agriculture Organization of the United Nations (FAO) (French: Organisation des Nations unies pour l'alimentation et l'agriculture, Italian: Organizzazione delle Nazioni Unite per l'Alimentazione e l'Agricoltura) is an agency of the United Nations that leads international efforts to defeat hunger. Serving both developed and developing countries, FAO acts as a neutral forum where all nations meet as equals to negotiate agreements and debate policy. FAO is also a source of knowledge and information, and helps developing countries and countries in transition modernize and improve agriculture, forestry and fisheries practices, ensuring good nutrition and food security for all. Its Latin motto, fiat panis, translates into English as "let there be bread". As of 8 August 2013[update], FAO has 194 member states, along with the European Union (a "member organization"), and the Faroe Islands and Tokelau, which are associate members.[1]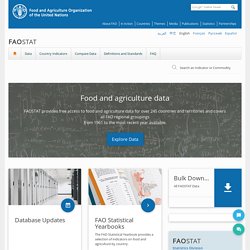 La División de Estadística de la FAO ha lanzado una nueva versión de FAOSTAT, que forma parte de la misión de la organización para mejorar la recopilación y la difusión de datos, para el desarrollo y la lucha contra el hambre y la desnutrición. La nueva plataforma sigue ofreciendo un acceso libre y una forma sencilla de acceder a los datos para 245 países y 35 áreas regionales, desde 1961 hasta el año más reciente disponible. Las características mejoradas incluyen la navegación y el análisis de datos, la descarga de datos interactiva avanzada, y el intercambio de datos mejorados a través de servicios web. A partir del 1 de Junio de 2014, sólo estará disponible la nueva versión de FAOSTAT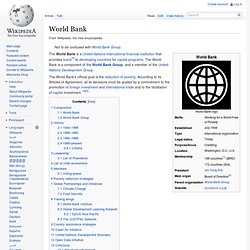 The World Bank is a United Nations international financial institution that provides loans[3] to developing countries for capital programs. The World Bank is a component of the World Bank Group, and a member of the United Nations Development Group. Composition[edit]
About the IMF
The International Monetary Fund (IMF) is an international organization that was initiated in 1944 at the Bretton Woods Conference and formally created in 1945 by 29 member countries. The IMF's stated goal was to assist in the reconstruction of the world's international payment system post–World War II. Countries contribute funds to a pool through a quota system from which countries with payment imbalances temporarily can borrow monies and other resources.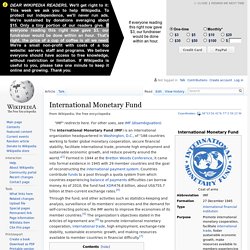 An intergovernmental organization (or international governmental organization; IGO) is an organization composed primarily of sovereign states (referred to as member states), or of other intergovernmental organizations. Intergovernmental organizations are often called international organizations, although that term may also include international nongovernmental organization such as international nonprofit organizations or multinational corporations. Intergovernmental organizations are an important aspect of public international law.
Intergovernmental organization
Guidelines on the Use of the ASEAN Anthem 1. The ASEAN Anthem is an expression of ASEAN unity. It also strengthens the sense of ASEAN identity and belonging among the peoples of the region.
The Centre for Independent Studies
Civil society
The term civil society has a range of meanings in contemporary usage. It is sometimes considered to include the family and the private sphere, and referred to as the "third sector" of society, distinct from government and business.[1] Dictionary.com's 21st Century Lexicon defines civil society as 1) the aggregate of non-governmental organizations and institutions that manifest interests and will of citizens or 2) individuals and organizations in a society which are independent of the government.[2] Sometimes the term is used in the more general sense of "the elements such as freedom of speech, an independent judiciary, etc, that make up a democratic society" (Collins English Dictionary).[3] Volunteering is often considered a defining characteristic of the organizations that constitute civil society, which in turn are often called NGOs, or NPOs.
Mapping: Creation of graphic matrices - CiSocH
Civil Society - Defining Civil Society