Android apps
Design Tutorials « Tapptics
Update: 01/10/2012 : The original version of this article by Jen Gordon was published in August 2009. It was thoroughly revised and updated by the author in September 2012. — Editorial Team Since the iTunes App Store launched in 2008, over 500,000 apps have been approved by Apple, and thousands more app ideas are scrawled on napkins across the world every day. But question remains, how can a person with limited technical skills create an iPhone app? The good news is anyone can make an iPhone app, it's just a matter of knowing the series of actions you need to take to make it happen. Be sure to bookmark this article because it will serve as a guide for learning the process for creating your first iPhone app, going step by step from idea to the App Store.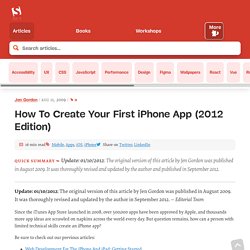 mount olympus - Google Images
Version 1.0 Author: Falko Timme <ft [at] falkotimme [dot] com>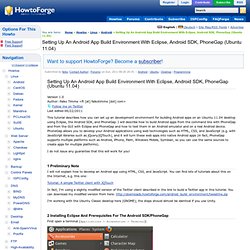 Setting Up An Android App Build Environment With Eclipse, Android SDK, PhoneGap (Ubuntu 11.04
This how to will show you how you can create a simple 2D Map with Cells to place stuff on it. Just like the old school SimCity.
Create a scrollable Map with Cells – Part I on Android Development
game development - Scroll Speed Disparity Android 2D Graphics
I/O - Writing Real-Time Games for Android See All Sessions Android - Chris Pruett This session is a crash course in Android game development: everything you need to know to get started writing 2D and 3D games, as well as tips, tricks, and benchmarks to help your code reach optimal performance. In addition, we'll discuss hot topics related to game development, including hardware differences across devices, using C++ to write Android games, and the traits of the most popular games on Market.
I/O 2010
How do you make a 2D scroller game for Android
How to Make Your Own Android Apps
If you're interested in developing a game for the Android platform, there is a lot you need to know.