Meals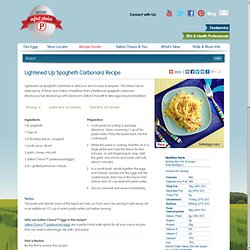 Lightened Up Spaghetti Carbonara is delicious and so easy to prepare. The turkey bacon adds plenty of flavor and makes it healthier than a traditional spaghetti carbonara. Weelicious has teamed up with Davidson's Safest Choice® to take eggs beyond breakfast.
Lightened Up Spaghetti Carbonara Recipe
Potato Rings with Homemade Buttermilk Ranch
Steamed Buns | Cooking Momofuku at home - Momofuku for two
January 24, 2010 rows and rows of steamed buns You don't have to make your own steamed buns for Momofuku Pork Buns. As Chang says, "how many sandwich shops bake their own bread?" bread flour, yeast, non-fat milk power, water, baking soda and water, pork fat Momofuku still sources their steamed buns from elsewhere, so if you want to take Chang's advice, you can easily buy plain steamed buns at most Asian grocery stores in the freezer section.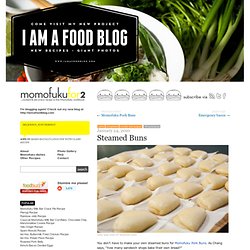 KFC Coleslaw recipe ~ Recipes by Amandas Cookin
With the 4th of July upon us, I thought I would share with you a fabulous recipe I discovered. My husband loves the coleslaw from Kentucky Fried Chicken. In fact, he's a terrible mayo-phobe, so it took many, many years just to get him to try other coleslaws. He had even told me one day that he wished I could find a recipe for KFC's coleslaw so we could have it at home more often.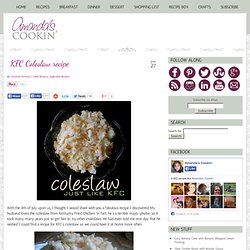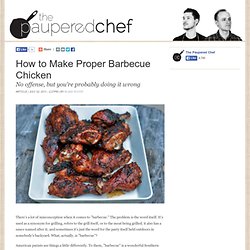 There's a lot of misconception when it comes to "barbecue." The problem is the word itself. It's used as a synonym for grilling, refers to the grill itself, or to the meat being grilled; it also has a sauce named after it; and sometimes it's just the word for the party itself held outdoors in somebody's backyard. What, actually, is "barbecue"?
How to Make Proper Barbecue Chicken | The Paupered Chef - StumbleUpon
Hot Spinach Dip - Martha Stewart Recipes
OK, Folks. No joke, these are the best ribs ever!! I always look at reader reviews when I choose a recipe. They help me decide whether a recipe is worth it, or not. Well, this one had rave reviews...many calling the ribs award-worthy, contest winning, etc.
Sticky Balsamic Ribs - StumbleUpon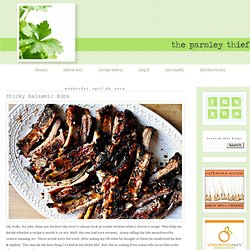 In the realm of Scalloped Potatoes, this recipe is the winner . . . at least in my book. It's a Family Favorite. We make these for almost every holiday dinner, and in between. When I was younger, we would devour these very quickly at the dinner table. If there were any left-overs, we would fight for them!
CREAMY CHEESY POTATOES & Get Off Your Butt and BAKE! - StumbleUpon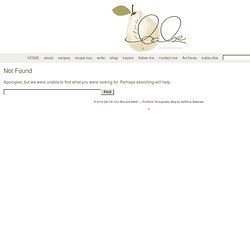 Infographic created by Lemon.ly ... Created by: HackCollege.com ... Food Fact: The myth that alcohol does all cook out stems from the fact that ... Food Fact: The largest item on a menu in the world is whole camel which ... Food Fact: Marshmallows date back to as early as 2000 BC and were considered a ... Food Fact: A good way to clear a stuffed up nose is to eat spicy foods. ...
Picture the Recipe - StumbleUpon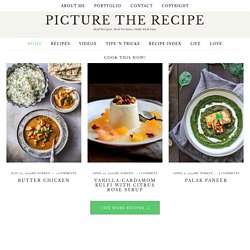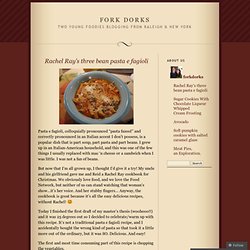 I wanted to start out with an image simply because I CAN'T BELIEVE I MADE THIS! This is the first in what may very well become a series of meals I will make. I've always wanted to try to make meat pies, ether as a snack or as a meal, and I finally mustard (hehe) up the courage to make it happen.
Fork Dorks
I'll start by saying that this recipe differs from most of my others as it is not a quick one, and does require a little "labor." This is because these delectable fine foods are made from scratch, by hand, and, oh yes, it is soooo worth it. For my vegan Thanksgiving feast this year, rather than making a plate of familiar yet gourmet side-dishes, as I usually do, I decided to make these tortellini as the main event, something different and quite special. They have a unique flavor – nourishing and carrying the weight of squash's comfort quality, yet holding a hint of almond cookie sweetness while proclaiming as a savory dish. I drew inspiration for the recipe from one taken from the Food Network, yet, being a vegan, tweaked it to make it a little different and very vegan friendly.
yummy dirt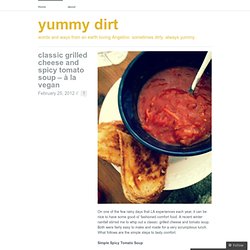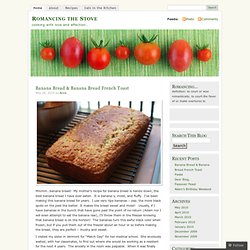 Passover is one of Adam and my favorite Jewish holidays. It is a happy holiday with a lot of celebrating, eating, and drinking wine. Any holiday that invites eating and merriment, is a holiday for me! Over the years, Adam and I have enjoyed sharing in each other's family's traditions and holidays.
Romancing the Stove - StumbleUpon
Thursday, October 6, 2011 Warm Bacon Potato Salad A couple of years ago, my husband, Scott, asked me to make a potato salad. He's not a man who asks very often for something so specific, 95% of his requests center around the one-syllable, "meat" so I took his request pretty seriously. I've always considered potato salad one of those "filler sides" that come with your lunch order at a deli – it's cheap, easy to make and generally all taste the same. The gloppy, mayo-heavy version that comes in a plastic tub is nothing to brag about, nothing to complain about, it's just there next to your sandwich.
Warm Bacon Potato Salad Recipe | Steamy Kitchen Recipes
cheesy, oozy guacamole bean dip - The Kind Life - StumbleUpon
I first had this at a party about 10 years ago. That recipe was my inspiration for this healthier version. We like to make this for football games. My husband Christopher is a huge Cleveland Browns fan. They never really win, but he always roots for them.
Easy Brazilian Cheese Bread (P縊 de Queijo) Recipe | Simply Recipes
Our tour of Brazil continues. After posting the moqueca recipe, several of you asked if I had a recipe for Pão de Queijo, or Brazilian cheese bread, sort of like a chewy cheese puff made with tapioca flour. As a matter of fact, I do. My friend Bill gave me this recipe years ago, a favorite from his Brazilian wife Silvia.
Lunch Recipes: Wrap Sandwich and Burrito Recipes - Martha Stewart - StumbleUpon
The Sweets Life: Pepperoni Pizza Monkey Bread
How do you make bread even better? You stuff it with pepperoni and cheese. Then, you bake it in a bundt pan that allows you to pull off little chunks and dip them in pizza sauce. This is the perfect thing to bring to a party (and I did, where it disappeared quickly!) or to eat during a football game. Or, make it for dinner and serve with a salad.
Steak au Poivre - The Showstopper | Food for My Family - StumbleUpon
I have a comment on this comment, then I have a comment for the OP. To Amy: Removing to foil is simply a way to keep the steaks warm whilst resting (FOR 5 MINUTES AT LEAST… ALWAYYYS!). When the OP says remove to foil, he/she doesn't mean to wrap them tightly. They mean to place them in a plate, and form a loose 'covering' of foil. This will simply trap some of the heat and allow it to remain warm, without trapping too much moisture.
Gastropub recipe: pot roast chicken | Life and style | guardian.co.uk
alexandras kitchen | alexandra's kitchen — recipes, photos, food
Slow Cooker Chicken Alfredo Recipe - Allrecipes.com
Creamy bacon carbonara & Cooking Blog - Find the best recipes, cooking and food tips at Our Kitchen.
St Patricks Day recipe: potato and caraway seed cakes | Life and style | guardian.co.uk
Spam Musubi Recipe | Cooking Momofuku at home - Momofuku for two
Pierogi Recipe | Cooking Momofuku at home - Momofuku for two - StumbleUpon
Pesto Salmon Burgers
BBC - Food - Recipes : Vegetarian chilli
Crusty Bread
Recipe: Rosemary Oven Fries | MNN - Mother Nature Network
Crazy Hot Dogs at WomansDay.com - Gross Hot Dog Recipes - Womans Day - StumbleUpon
- StumbleUpon
Crash Hot Potatoes | The Pioneer Woman Cooks | Ree Drummond - StumbleUpon
no-bake energy bites | gimme some oven - StumbleUpon
Bacon-wrapped Jalapeno Chicken Bites - StumbleUpon
Mighty Meaty Nachos (with homemade tortilla chips!)
The Best Broccoli of Your Life - The Amateur Gourmet - StumbleUpon
Cruft: Lasagna Cupcakes - StumbleUpon
Parmesan, Herb, And Garlic Pull-Apart Bread - StumbleUpon
How To&8230; Cook Healthy Mozzarella Sticks | Things Every College Girl...
random funny pictures
Sweet And Sour Chicken With Ham Fried Rice | The Zohner Family Blog
Pepperoni Pizza Puffs - StumbleUpon
Pizza Braid | Busy Mommy: An Iowa Mom Blog - StumbleUpon
Baked Egg Boat recipe - StumbleUpon
Better Than Takeout Orange Chicken - StumbleUpon
Scalloped Hasselback Potatoes | Tasty Kitchen Blog - StumbleUpon
Bacon and Cheddar Macaroni & Cheese - iVillage - StumbleUpon