Wedding Plans
Joanna August Weddings. Claire October, 2013 Brittany September, 2013 Ashley September, 2013 Bridget September, 2013 Brittany 2013 Kathlyn August, 2013.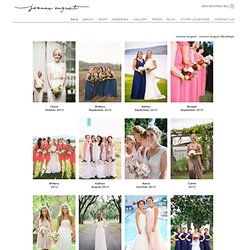 Wedding dresses, wedding planning tools, and wedding ideas. Wedding Dresses | Bridal & Bridesmaid, Formal Gowns | Allure Bridals. Will You Be My Bridesmaid? It is more than acceptable to take your friends to lunch and ask them to be your bridesmaids.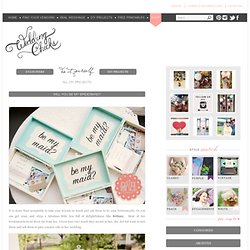 Or you can get crazy and whip a fabulous little box full of delightfulness like Bethany. Most of her bridesmaids-to-be lived far from her. Given how very much they meant to her, she did not want to text them and ask them to play a major role in her wedding. Silk-Flower Ring Pillow - Martha Stewart Weddings Planning & Tools. Silk flowers add elegance to a ring pillow.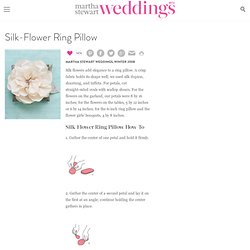 A crisp fabric holds its shape well; we used silk dupion, shantung, and taffeta. For petals, cut straight-sided ovals with scallop shears. For the flowers on the garland, our petals were 8 by 16 inches; for the flowers on the tables, 5 by 12 inches or 6 by 14 inches; for the 6-inch ring pillow and the flower girls' bouquets, 4 by 8 inches. Silk-Flower Ring Pillow How-To 1. Bridesmaid Survival Guide, Wedding Wreaths, Birch Candle Holders. I know that you are going to go nuts over these DIY Bridesmaid Survival Kits… I am working on getting complete instructions for these, but in the meantime, I found the miniature suitcases at Land of Nod (random, I know).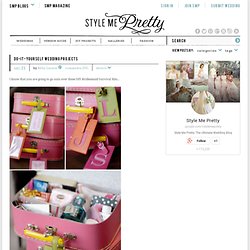 Fill each one with all of the necessities that a bridesmaid would need…a small sewing kit, safety pins, mints, gum, things like that. Next, this oh-so-perfect "Kissing Tree." Letter Blocks. Our new Letter Blocks were a huge hit at Swiss Days.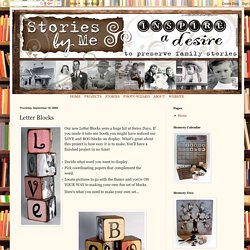 If you made it into our booth you might have noticed our LOVE and BOO blocks on display. What's great about this project is how easy it is to make. You'll have a finished project in no time! Decide what word you want to display.Pick coordinating papers that complement the word.Locate pictures to go with the theme and you're ON YOUR WAY to making your own fun set of blocks.
Women who are too pushy: A man's point of view - Chicago Relationship Advice. There has been some rebuttal about my last article from some male readers.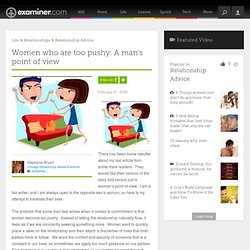 They would like their version of the story told versus just a woman's point of view. I am a fair writer, and I am always open to the opposite sex's opinion, so here is my attempt to translate their side. The problem that some men feel arises when it comes to commitment is that women become too pushy. Instead of letting the relationship naturally flow, it feels as if we are constantly seeking something more. TheKnot.com - Wedding Planning - Wedding Ideas- Wedding Dresses.
---