Wordpress
Baume et Mercier. WordPress Plugins. Plugins can extend WordPress to do almost anything you can imagine.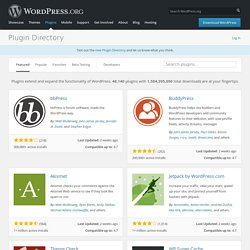 In the directory you can find, download, rate, and comment on all the best plugins the WordPress community has to offer. WP Super Cache Download A very fast caching engine for WordPress that produces static html files. Jetpack by WordPress.com Download Supercharge your WordPress site with powerful features previously only available to WordPress.com users. Web Design. Free WordPress Themes. Looking for the awesome WordPress themes?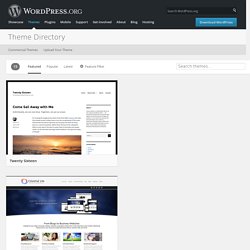 Here's the place to find them! Welcome to the Free WordPress Themes directory. How to install WordPress 3.0 on XP and IIS 5.1 Manually | Domain Web Center. PART I – Install PHP on IIS 5.1 (Win XP) Manually For instructions see Download file php-5.2.13-Win32.zip from Alternatively, download php-5.2.13-nts-Win32.zip (nts stands for Not-Threat-Safe) Unzip it into C:\Program Files\PHP Copy, create or edit php.ini file Either add PHPRC environment variable pointing to C:\Program Files\PHP\ Or add C:\Program Files\PHP\ to the PATH.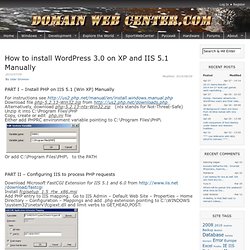 Setting up Wordpress on Windows XP to use IIS 5.1 | Brokentoken.com. I recently built a Windows XP virtual machine with the intention of doing wordpress theme development and testing on it.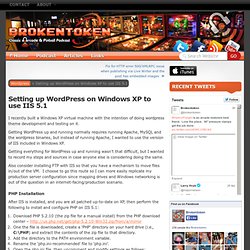 Getting WordPress up and running normally requires running Apache, MySQL and the wordpress binaries, but instead of running Apache, I wanted to use the version of IIS included in Windows XP. Getting everything for WordPress up and running wasn't that difficult, but I wanted to record my steps and sources in case anyone else is considering doing the same. Also consider installing FTP with IIS so that you have a mechanism to move files in/out of the VM. I choose to go this route so I can more easily replicate my production server configuration since mapping drives and Windows networking is out of the question in an internet-facing/production scenario.PHP Installation After IIS is installed, and you are all patched up-to-date on XP, then perform the following to install and configure PHP on IIS 5.1:
Main Page. Comparing Joomla + Drupal + Wordpress + TYPO3 | CMS Match.
---