Private Sector - Business
Our country reports are updated annually and provide internationally comparable statistics on a wide range of consumer goods, services and industrial markets. They provide in-depth strategic analysis and statistics on national markets in 80 countries world-wide. They include data and analysis of market size, distribution channel analysis, market trends, competitive landscape, legislation, local company profiles, company and brand shares and five year forecasts.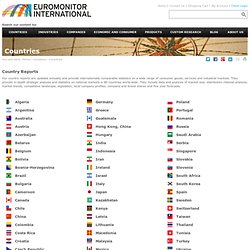 Country research: economic and demographic trends in over 80 countries
2013 BrandZ Top 100
Consumer categories rebound Consumer categories experienced the strongest brand value appreciation as confidence and spending improved overall, despite economic difficulties in Europe and the slowdown in the BRIC markets. Food & drink experience mixed results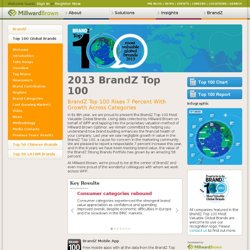 Green Wave Action around the World in 2011 | The Green Wave
Asset management
Infrastructure asset management[edit] Infrastructure asset management is the combination of management, financial, economic, engineering, and other practices applied to physical assets with the objective of providing the required level of service in the most cost-effective manner. It includes the management of the whole life cycle (design, construction, commissioning, operating, maintaining, repairing, modifying, replacing and decommissioning/disposal) of physical and infrastructure assets.[1] Operating and sustainment of assets in a constrained budget environment require some sort of prioritization scheme. Historical background of asset management[edit]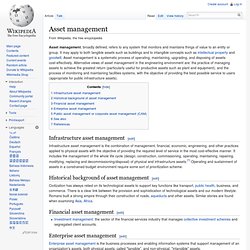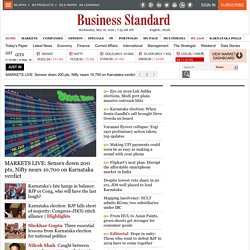 Revisionist history T N Ninan History may or may not be kinder to Manmohan Singh than his current interlocutors in the media and critics among politicians. But one thing ... Encircling China Deepak Lal
Petroleum Economist | Map Store
This site uses cookies to improve your online experience. Sites like ours store small text files on your computer when you visit. We use this information to monitor traffic and look for ways to improve the services we offer at www.franklintempleton.co.uk. The cookies we use don't include any information about your personal identity or your accounts. Your browser must accept at least a session cookie to use all the features on this site.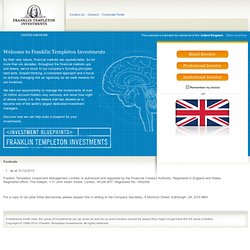 Franklin Templeton Investments UK
The Future of Financial Regulation - Events - IIEA - The Institute of International and European Affairs
About this Event 05 Nov 2009 @ 12:45 The Future of Financial Regulation: Retrieving the Meaning of Accountability in Capital Markets Audio Podcast:Download Prof.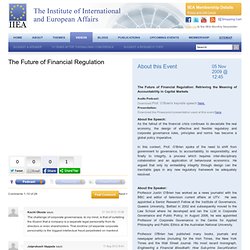 Smarter Business and Smarter Technology for a Smarter Planet
Executive Education and Management Training Program - Harvard Business School
fDi Intelligence – Your source for foreign direct investment information - fDiIntelligence.com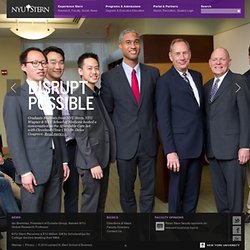 Neil Blumenthal, co-founder and co-CEO of Warby Parker, and Professor Charlie Murphy joined Langone MBA students for a 2013-2014 Langone Speaker Series event. Honors Program students travel to Omaha with Dean Menon to meet Warren Buffet as a part of the Stern Program for Undergraduate Research. Explore past Honors Program theses>> MBA/MPA dual degree student Larry Arbuthnott shares his "Tale in Possible" with incoming MBA students.
NYU Stern | NYU Stern School of Business – Overview of Full-time MBA, Part-Time (Langone) MBA, Undergraduate, PhD, Executive (EMBA) Business Programs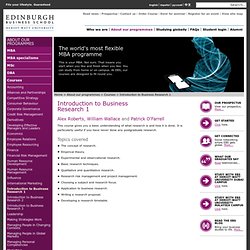 Introduction to business research 1 is one of the EBS online business courses that build towards a distance learning MBA
Alex Roberts, William Wallace and Patrick O'Farrell This course gives you a basic understanding of what research is and how it is done. It is particularly useful if you have never done any postgraduate research. Topics covered The concept of research.
Financial Sector Assessment Program -FSAP
: GMI Ratings' Co-Founder and Director Robert A. G. Monks to be Awarded The Frankel Fiduciary Prize The Institute for the Fiduciary Standard Recognizes Monks for His Tireless Work on Behalf of Investors Washington DC – December 3, 2013 – GMI Ratings, the leading provider of research, data and analytics on environmental, social, corporate governance (ESG) and accounting-related risks affecting the performance of public companies, along with The Institute for the Fiduciary Standard today announced the Frankel Fiduciary Prize and Symposium will honor Robert A. G.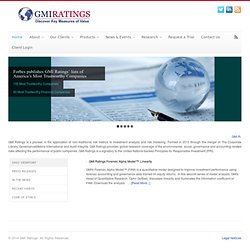 The Corporate Library
AMI - SME +++ Welcome to AMI SME +++
Investing Simplified
ShareFair 2011 Tweet Feed: Marc Davies on Demystifying Private-Public Partnerships - storify.com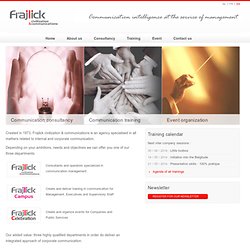 Communication agency, training and events – Brussels
Created in 1973, Frajlick civilization & communications is an agency specialised in all mathers related to internal and corporate communication. Depending on your ambitions, needs and objectives we can offer you one of our three departments: Consultants and operators specialized in communication management Create and deliver training in communication for Management, Executives and Supervisory Staff Create and organize events for Companies and Public Services Our added value: three highly qualified departments in order do deliver an integrated approach of corporate communication.
B2B Marketing Directory | Promote Your Business Online | B2B Marketing Center