Microcredit
Banking with the Poor Network - BWTP
Asia Resource Centre for Microfinance - ARCM
Microfinance Gateway > Home
United Nations Capital Development Fund - UNCDF
Bellanet Alliance
Microfinance Management Institute-MFMI
Réseau Européen de la Microfinance - Liste des membres
virtual library on microcredit - GDRC
Microfinance Regulation Center: Regulation Home Page:
MicroEnergy Credits
Google Browser
SocialEarth | Promoting social entrepreneurship, businesses, and ideas
Blogs From the Field - FINCA International
African Microfinance Network - AFMIN
MIX - Microfinance Information Exchange
Microlending and Microfinance Organization
Microfinance Focus
FINCA Has Walked a Mile with Me To say Berna Naiga, a FINCA Uganda client, is an inspiration is an understatement. While in the prime of her life, she became infected with HIV/AIDS, but she's not let that stop her from becoming one of the most successful entrepreneurs in her village. Perhaps some of her motivation comes from caring for and supporting 10 orphaned children, all nephews and nieces of her relatives who have died of AIDS.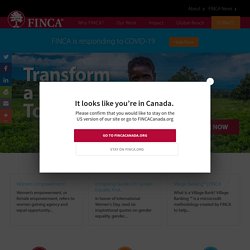 Home - FINCA International