Democracy
E-Learning Course for Short-Term Election Observers. Education > Training for International Electoral Observers - Programme - EIUC. The aim of the course is to deepen the theoretical and practical expertise on election observation missions, in providing participants with practical skills which will be an asset in case of further applications as international observers.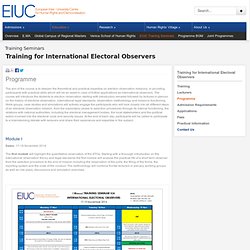 The course will introduce the students to election observation starting with introductory remarks followed by lectures in plenum on the history of electoral observation, international legal standards, observation methodology and missions functioning. Work groups, case studies and simulations will actively engage the participants who will look closely into all different steps of an electoral observation mission, from the exploratory phase to selection procedures through its internal functioning, the relations with national authorities, including the electoral management bodies, the local stakeholders and the political actors involved into the electoral cycle and security issues.
Electoral Knowledge Network-ACE. Governments on the WWW. IFES Election Guide - Election Calendar. Links « World Elections. Resources Mapping French Elections Links World PsephosElection ResourcesElections by country (Wikipedia)Electoral Geography 2.0IFES Election GuideElections & Electoral SystemsDistrict-Level Electoral DataSuchmaschine für direkte Demokratie (Search Engine for Direct Democracy, in German) Europe.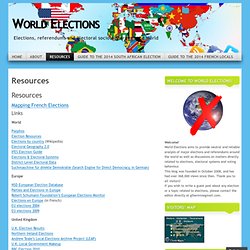 ---