Design communication
Mountain View – Digital Strategy Agency
Trionn Design | A Design Studio : Website Design, UI/UX, Brand & Graphic Design, Web and Mobile Application Design, HTML5, CSS3, jQuery Development Company located in Rajkot, Gujarat, INDIA
Web Design Gold Coast Website Design - 2 Creative - Web Designers - Non Freelance Web Site Design
GoodTwin | Relationship Focused. Creative Problem Solvers. True Story.
Phillips Internet Consulting : création de sites, e-commerce, e-marketing à Biarritz et Paris
Kitchen - Home
Web Site Design, Digital Art Inspiration & Web Development Snippets & CSS
Graphic Design Web Design, Branding and Print for Wenatchee - Welcome
Riser - A Creative & Design Agency
Diseño Páginas Web y Software Web desde Colombia
Red Monkey Goo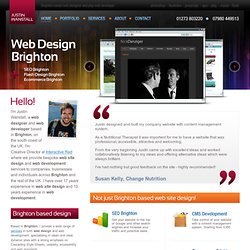 Hello I'm Justin Wanstall, a web designer and web developer based in Brighton , on the south coast of the UK. I'm Creative Director at Interactive Red where we provide bespoke web site design and web development services to companies, businesses and individuals across Brighton and the rest of the UK. I have over 16 years experience in web site design and 9 years experience in web development . Brighton based design Based in Brighton , I provide a wide range of services in both web design and web development, specialising in clean and clear, dynamic sites with a strong emphasis on Cascading Style Sheets, usability, accessibility and web standards. Now more than ever, websites are vital for all businesses, regardless of size or industry.
Web design Brighton - Justin Wanstall Brighton based Web Designer & Web Developer
Dan Butterfield | Managing Editor of iPhoneAsia
Home - Coke Studio
.::USMP.::carrerasconfuturo.com::.
Bangalore Website Design Company India | Website Hosting Provider India | Domain Names Registration | SEO | Complete Web Solution | NuvoDev
Lokalisten Sprechblase
naro design, let's make it colorful | web design and development, logo design, graphic for print, books illustration, digital art, tel-aviv, holon, israel
These Are Things - Home of the Modern World Map
BeeSoft | Web Solutions | Realizzazione Siti Web, Sviluppo Software, Web Agency Ascoli Piceno – San Benedetto del Tronto
Hull Digital Live 09 · Hulls first digital and technology conference.
Flourish Web Design - Gainesville, Jacksonville, Dunnellon, Ocala, Crystal River Florida Web design, search engine optimization and graphic design
Mutant Labs - About
utant Labs is a tight-knit team of developers and designers who share a passion for Games, Apps and other digital wizardry. We pride ourselves on taking on technological challenges, exploring new ideas and making beautiful stuff.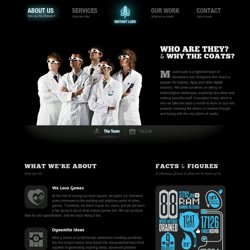 The ExpressionEngine and CodeIgniter Conference | September 29 - October 01, 2010 | Leiden, The Netherlands
Joomla Web Design Geelong - Melbourne -Joomla - Juicy Digital - Professional Joomla Design and Templates
67Pixels - HOME
balsamstudio - total brand experience
PANOETIC ® Award winning UK website design and Drupal development specialists (Bradford, Leeds, Yorkshire, Norwich)
Siete de Febrero. Diseño web en San Juan
EPS DESIGN | CREARE L'IMPENSABILE
Great quality cheap web design from TinyVerse Creative
http://immersive-garden.com
Pebble Design - Hotel Web Design Brisbane, Sydney & Melbourne
Design / Portfolio of Imran Ashraf / Web Design & Development / Branding / Digital Abstract Art / Bradford, UK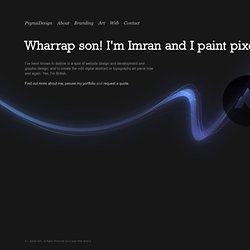 From this point on I'll refer to myself in the third-person, all the trendy creative people are doing it. Imran was born on a mid-Summers night in 1987 - the year the Knoll brothers first developed Photoshop (anyone smell irony?). He currently lives in Bradford which is in the north of England (no, not Scotland).
illus sympa, très design, navigation latérale originale. Mais point faible pour référencement.. by stellanie Sep 14
Cüneyt ŞEN - Freelance Web Designer / Freelance Grafiker
ADOK studio
Największa agencja interaktywna w Polsce - K2
X P E N S O || SÉBASTIEN ISAIA || D.A., webdesigner, animateur flash freelance ( web designer, web-designer, graphiste, infographiste, DA, free lance, free-lance, indépendant ) || web design flash || création ( réalisation, production, conception ) de sit
Foundation Six Web Design Studio
Fradtags web and graphic designer | Philippine Freelancer
DOMANI - Home
Portfolio 2011
El Paso Web Design and El Paso Internet Marketing | Atelier Creative Development
Niepubliczna Szkoła Muzyczna I stopnia im. Augustyna Blocha w Warszawie
making you more
David Ayllon | Graphic Designer & Illustrator | Home
ParePikseli Agencja Interaktywna | Identyfikacja Wizualna, Silna Marka, Branding, Strony Internetowe - Gdańsk
Webbyrå Grebban Design - En kreativ design- och webbyrå
Spark Creative | Web and Graphic Design Agency in Riverside, CA
Welcome to Tao Community - We are more than just a Group of Companies, We are a Community
Digital Creative Agency, Advertising and Marketing :: Engine Creative
Art4web | Creative digital agency
FLOOR 26 - PORTFOLIO OF ERIC GRIVET - INTERACTIVE ART DIRECTOR - FLOOR26 - ETAGE26
Hermetik Studio
Web design portfolio of Denise Chandler
Hyper
Jacob Lee - Web, Print & Brand
Sparkling Milk / Communications Agency
kraftcons
Clearfire Inc. - Springfield, IL based web design and development studio specializing in ExpressionEngine
HTML Email Template Coding Service from Mail Bakery
Designer Gleb / Graphic&Web Designer Gleb Leksikov / Web
Typología - Portafolio Juan Sebastián Cortés
Snowden Industries | Web Design | Logo Design | Business Catalyst Websites
Cheap web design - great quality, cheap websites - tinyVerse web design
Mutant Labs - Beta
Inservio web solutions | UK based creative web agency
Sogam--Portfolio d'Orane Schick--Creative--Multimedia Designer--Graphics--Webdesign--Motion-- |GRAPHISME|
Elise Roy. Directrice Artistique.
iPhone Development | Android Development | Web Development | iPad Development | iOS Development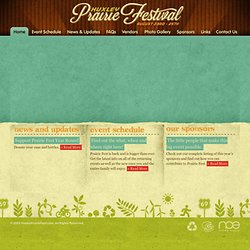 Huxley Prairie Festival - Home
Get Involved in This Year's Festival! Meet new people and make your community a better place to live!. + Read More Find out the what, when and where right here! Prairie Fest is back and is bigger than ever.
Vegas Uncork'd | Las Vegas, NV | May 6-9, 2010
Web design in Costa del Sol with corporate photography and video production services
Couleur Citron : Agence de communication web et audiovisuelle basée à Toulouse et Paris
Diseño Páginas Web y Software Web desde Colombia
Креативное агентство «Ideage» - Разработка сайтов, Веб дизайн, Екатеринбург, Каменск-Уральский